LOCATION
Resch Center
820 Armed Forces Drive
Green Bay, WI 54304
DIVISION 4 GAME TIMES
Thursday, March 10 — Semifinals
#1 Mineral Point vs. #4 Westfield — 6:35 pm
#2 Laconia vs. #3 Neillsville — approx. 15 mins following MP game
Saturday, March 12 — Final
Mineral Point vs. Laconia — approx. 15 mins following D5 Final (around 12:45 pm)
Doors will open approximately 45 minutes prior to the start of each session. All spectators and any of the items they are carrying are subject to search.
SEND-OFF INFO
A sendoff from MPHS at 10 am Thursday will take place. The route will be: High School to Ridge Street, Ridge Street to 5th Street, 5th Street to Cothern Street (elementary drive by) to N. Iowa Street, down High Street through Five Point intersection, out past Triple P Express.
TICKET INFO
Tickets are $11 each (ages 2 and under do not require a ticket).
They can be purchased at the Resch Center and also online at: https://www.ticketstaronline.com/events/detail/wiaa-girls-state-basketball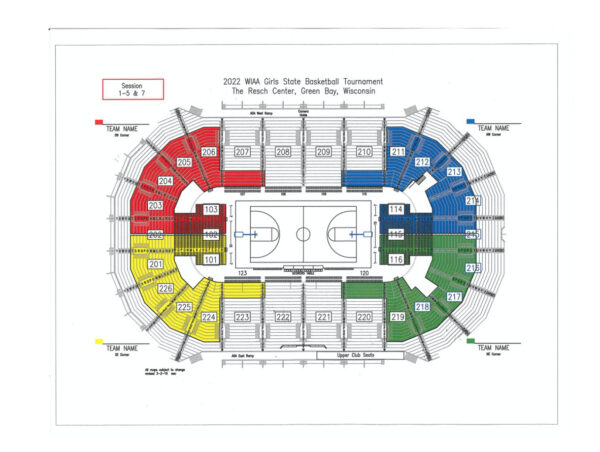 PARKING
Parking is cashless and $7 in the Blue lot across from the Resch Center or in the Lambeau Field lot. 
ADA parking is available on a first come, first served basis in the Blue Lot across the street from the Resch Center adjacent to Ray Nitschke Field. If all spaces are occupied, please drop off any persons with a disability at the front of the Resch Center and then park at Lambeau Field.
RADIO COVERAGE
Finals: 93.7 fm and 107.1 fm.
HOW TO WATCH  
The State Boys & Girls Basketball Tournaments will be televised on your local Wisconsin station and streamed live on the stations' websites free of charge: https://www.waow.com/sports/magic-of-march/livestream/
POST-GAME MEDIA CONFERENCES STREAMED  
The post-game media conferences will be shown live without subscription on the WIAA.tv portal of the NFHS Network immediately following each game.
PROHIBITED ITEMS
Spectators attempting to enter the Resch Center carrying prohibited item(s) will have them confiscated or be told to return the item(s) to their vehicle. Confiscated items will not be returned. Resch Center is not responsible for items left behind.
The following items will not be allowed in the Resch Center (all spectators and items are subject to search): 
Selfie Sticks 

Strollers, coolers, thermoses, bottles, cans and food and/or beverage items of any kind.

Backpacks and any bag larger than 8.5" x 11". 

Artificial noisemakers: stadium horns, cow bells, bottles with rocks in them, thunder stixs, etc. 

Weapons of any kind. This includes pocket knives. 

Pom poms may not have sticks attached to them. 

Balloons, paper confetti, spray string, inflatables, etc. 

Alcohol and/or drugs. 

Large signs. (Fat heads) hand-held signs that are no larger than a piece of tag board that can be held by one person will be allowed. Signs may have tongue depressor sticks attached to them. 

Laser pointers. 

NO body or face paint is allowed in the Resch Center

No paint stir sticks.

Antics involving throwing of paper airplanes or coins, etc., will result in the violator being removed from the Resch Center. 

Fans may not leave their seats to join cheerleaders on the courtside area. 

Fans may not leave their seats to become involved in such things as slapping players hands during introductions, forming a tunnel for their players to run through as they enter or exit the court, etc. 

Fans may not allow others to sit on their shoulders or stand on seats or railings. 

Fans are NOT allowed on the floor of the Resch Center following the completion of their game.
Access for Individuals with Disabilities
There are ADA seating locations scattered throughout the Resch Center ADA Level. All wheelchairs must be positioned in the wheelchair and wheelchair companion seating areas. Individuals needing these special seating locations must go to the Resch Center Ticket Office to purchase and/or exchange previously purchased tickets for this area. Seating in the ADA area will only be allowed with a corresponding assigned ticket. There are public restrooms, concession stands, and drinking fountains on the concourse level of the Resch Center which are ADA compliant. "Service Dogs" are dogs specifically trained to do work or perform tasks for people with disabilities, including physical, sensory, psychiatric, intellectual, or mental disabilities. We would also recommend that an individual with a service dog contact the ticket office for seating that best accommodates their needs.
COVID PROTOCOLS
Fully vaccinated individuals should consider wearing a mask in areas of high likelihood of transmission. In addition, masks are strongly encouraged for individuals not fully vaccinated.
APPAREL
WIAA licensed apparel is available online for the 2022 State Girls Basketball Tournament. To browse and purchase branded merchandise, visit the WIAA Girls Basketball Store at: https://wiaagsbt22.itemorder.com/shop/sale/. The store closes Sunday, March 20 before midnight. Online purchases will be shipped after the online store closes. State Tournament apparel will also be available at the Resch Center.
SPORTSMANSHIP AWARD
At each of the WIAA State Team Tournaments, one school and community is selected to receive the Rural Insurance State Sportsmanship Award, with honorable mention recognition also given to schools who are under consideration for the overall award.  
The selection process for the State Tournament Sportsmanship Awards includes input from contest officials, tournament management, police and security personnel, crowd control and ushers, and WIAA Staff members. These observers judge the conduct and sportsmanship of coaches and athletes, cheer and support groups, mascots, bands, student groups and adult spectators. Also measured is the effort by school administrators and chaperones during the tournament to keep the support for their teams and student-athletes positive and enthusiastic.
WIAA also may solicit input from hotels, restaurants and business people in the city where WIAA State events take place in order to make appropriate measurements relative to the sportsmanship of communities and teams as they attend State Tournament competition. Sportsmanship by coaches and fans at regional and sectional contests prior to the State Tournament may also be taken into consideration.
The WIAA considers the Rural Insurance State Tournament Sportsmanship Award a prestigious honor. It's truly a community award and one that grows in stature and importance as the years pass.  
Mineral Point has received the award in the following years: 2011 (Wrestling), 2015 (Boys Basketball), and 2016 (Girls Basketball), along with honorable mention accolades other years. We would very much like to add another honor this year! Thank you for your cooperation.