#PointerNation is preparing for Homecoming 2020! While this year will be different due to COVID-19, we are still planning for a fun week to showcase our school spirit.
Homecoming is the week of November 2-6

This year's theme is "U Can't Touch This"

Football will host Lancaster Friday, November 6. (The game will be livestreamed at pointermedia.org by clicking on the MPTV icon)

Court will be introduced and Queen will be crowned during halftime of the football game (Due to spectator limitations, the community can watch live via the link at pointermedia.org by clicking on the MPTV icon)
Parade Information:
As we celebrate Homecoming 2020 this week, we will be having an abbreviated Homecoming Parade Friday, November 6 beginning at 4:45 pm. Lineup will be at Soldiers Memorial Park at 4:30 pm.
Route is pictured below and is different than in previous years: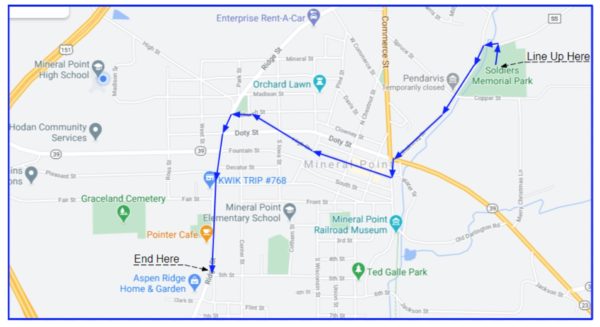 Guidelines:
For this parade, entries from the community at large will not be permitted. The parade will consist of parade marshals, court members, senior fall athletes, senior cheerleaders, senior music students, and senior parents of fall athletes.
In conjunction with the MP Police Department, the Mineral Point Unified School District is asking spectators to park alongside the parade route and to remain in their cars as they watch the parade.  All spectators are encouraged to use best practices during the parade.  Please wear a mask and socially distance from other spectators.
People participating in the parade will be required to wear a mask and practice social distancing guidelines from each other.  On the wagons, parents/students will be spaced out at a minimum of 6 feet.
Canceled events include:
Bonfire/Spirit Rally

Dance
Congratulations to this year's court members!
Freshman Representatives: Malea Aschliman and Emma Knutson
Sophomore Representatives: Kennedy Kabat and Olivia Wendhausen
Junior Representatives: Ella Grunow and Delaney Ross
Senior Representatives: Sira James and Tatum Kite
Senior Queen Candidates: Macy Aschliman, Alexis Berget, and Ivy Lawinger
Senior Boys: Mitchell Aurit, Mason Hughes, Matthew Nordstrom, Will Straka, Liam Stumpf, Nolan Springer, Gabe Sporle, and Chandler Workman
Emcees: Ian Keyes, Sadie Owens, and Cameron Wiegman
Mineral Point Homecoming is always a very special time in our community and we look forward to safely celebrating our Pointer Pride!
If you have any questions, please contact High School Principal Matt Austin at matt.austin@mp.k12.wi.us