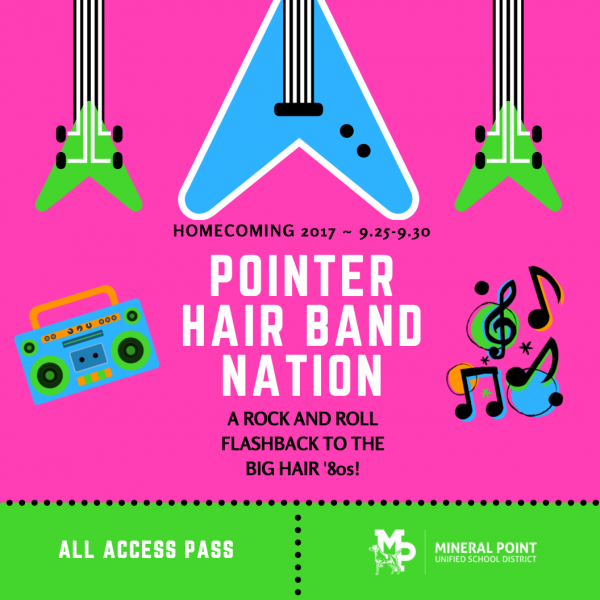 Mineral Point School District is anxiously anticipating celebrating its 2017 Homecoming September 25-30.
This year's theme is Pointer Hair Band Nation (A Rock and Roll Flashback to the Big Hair '80s).
Court members are, left to right, front row: Senior Representative Peyton Ross; Senior Queen Candidates Amanda Murphy, Malorie Johnson, and Madison Bowers; Senior Representative Brianna Lange. Second row: Senior Football Player Riley Workman; Freshman Representatives Alexis Berget and Macy Aschliman; Junior Representatives Kyla Lindsey and McKenna Reichling; Sophomore Representatives Jenna Wedig and Nicole Johnson; Senior Football Player Brady Roberts. Third row: Senior Football Players Caden Jackson, Carver Wallace, Grant Sporle, Eric Heisner, and Joey Dolphin. Back row: Senior Soccer Players Jacob Wedig, Haakon Schriefer, and Hans Miller. Not pictured: Senior Football Players Jacob Moellers and Josh Shepler.
The events are as follows:
Monday 9/25
High School dress up day: No Mirror Monday (pajamas, bedhead, no makeup)

Middle: Hawaiian Day

Elementary: None
Tuesday 9/26
High School dress up day: Tourist Tuesday

Middle: Sports Team Day

Elementary: None
Wednesday 9/27
High School dress up day: 80s Hair Band Day (Freshmen: Roadies, Sophomores: Press, Juniors: Groupies, Seniors: Rockstars, Staff: Security)

Middle: Twin Day

Elementary: Class Color Day (Kindergarten: Yellow, 1st Grade: Gray, 2nd Grade: Orange, 3rd Grade: Green, 4th Grade: Blue, 5th Grade: Black, Staff: White)
Thursday 9/28
High School dress up day: Class Color Day (Freshmen: Lime Green, Sophomores: Hot Pink, Juniors: Purple, Seniors: Black, Staff: Blue)

Middle: Crazy Hair Day

Elementary: Pointer Day

Parade 6:15 pm down High Street

Anyone wishing to enter a float in the parade should contact Matt Nevers at

matt.nevers@mp.k12.wi.us

or 987-0730 ext. 472. Entries should be in no later than Wednesday, September 27th to allow enough time to distribute the parade line-up to all involved. Floats may be pulled by car or truck, and the driver must have a valid WI driver's license. Written permission from the owner must be registered with Mr. Nevers. No three or four wheelers will be allowed in the parade and we ask that you refrain from throwing candy as it creates a hazardous situation for youngsters. Line-up will begin between 5:30 and 6:00 pm in front of Atrium Post Acute Care. Please look for the person in the bright florescent vest to help you.

Spirit Rally and crowning of the Queen to follow the parade at the current/ "old" football field
Friday 9/29
High School dress up day: Pointer Spirit

Middle: Blue & White Day

Elementary: Crazy Socks Day

Football game 7 pm vs. Cuba City
Saturday 9/30
Gridiron Club Golf Outing 9 am start at Dodge-Point

Dance 8 pm-12 am with Grand March at 8:30 pm in high school gym
A special invitation is extended to all Pointer Alumni to join in the festivities. Pointer Pride never dies.
Go Blue! Make it a great Homecoming week!