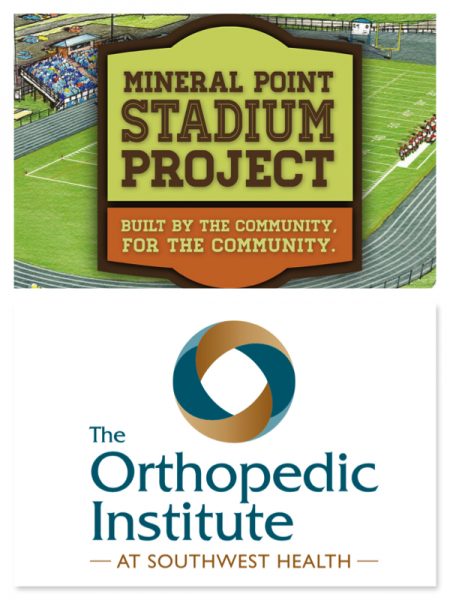 The Mineral Point Unified School District, along with the Mineral Point Stadium Project, are pleased to announce its first Championship Club donation in the amount of $25,000 from The Orthopedic Institute at Southwest Health in Platteville.
This donation will play an integral part in advancing forward the building of the Mineral Point Stadium Project.
The overwhelming majority of this project is being funded using private funds. The project has the support of the Mineral Point Alumni Foundation, Mineral Point Gridiron Club, school administration, and a dedicated steering committee.
As history goes, the current stadium was built in the 1930s. In 1994, a referendum was passed to build a new 6th-12th grade facility that included plans for a new stadium. For two decades, the district has been unable to relocate the field to the current high school, or invest in improvements at the elementary field site. This has resulted in a football field that does not meet regulation standards.
The project is approximately 50% funded at this time. Upcoming will be bleachers, press box, lights, and a concession building.
"I am most grateful that Southwest Health took the lead by becoming the first Championship Club Corporate Sponsor in a recently-released opportunity to partner with Mineral Point Schools to build the new community stadium," said Mineral Point Unified School District Superintendent Luke Francois.  "The hospital's generous gift was given in the spirt of the stadium's motto, 'Built by the community for the community.'  Thank you to Southwest Health's Board and CEO Dan Rohrbach for sponsoring the stadium effort and partnering with Mineral Point Schools."
"We are proud to help lead the way to a strong future for Mineral Point athletics," said Southwest Health CEO Dan Rohrbach. "Southwest and MPSD already partner in providing athletic training services with many of those athletes training at the EDGE. This sponsorship to support athletics and healthy students seemed like a great fit with our vision of creating a healthier Southwest Wisconsin."
To learn more about the project, visit mpstadium.com or like the Mineral Point Stadium Project on Facebook. The public is also invited to the 2nd Annual MP Football Community Day on Saturday, August 6 for fun activities on the new field.