The Mineral Point School Board held a special meeting Monday night to certify the levy for the 2023-24 school year.  (Go to the one hour, two minute mark)
Video link: https://youtu.be/3wcM85ffiDg?si=lxHHLpHTkQN6jDMy
Final numbers were provided from the state to the District Friday, October 13.
The Board unanimously approved (with Christie Johnston absent) the levy, which is a 7.24% increase over last year's and comes in at $4,723,258. The School Levy Tax Credit will reduce the tax impact.  District property taxpayers will see a reduction in the total tax levy of $190,000 and will be reflected on the property tax bills.
The equalized property value for the district now totals $570,737,765. This is a 16.67% increase over last year, largely due to inflation.
This total helps to determine the mill rate. The mill rate for this year is $8.28, compared to last year of $9.00, a decrease of .72 mills, which amounts to an 8% decrease.
Superintendent Mitch Wainwright mentioned the District taxpayer money being sent, by state law, to voucher schools in Milwaukee and Racine Counties is $122,241 this year.
A 10 year history of the mill rate is pictured below: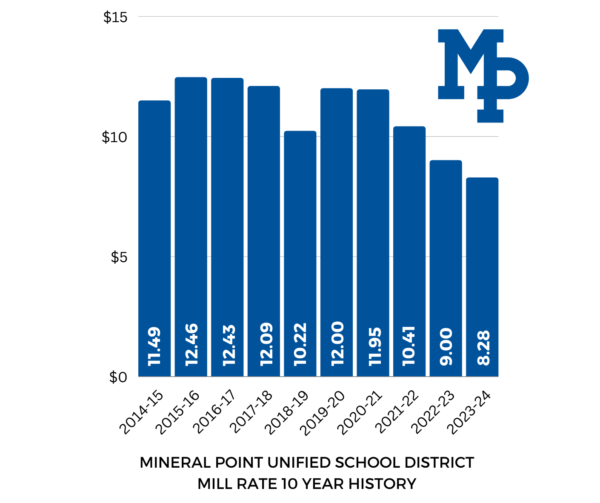 Other business:
— With revenue updates from the Department of Public Instruction on Friday, October 13, the District was fortunate to convert the expected deficit discussed at the regular October board meeting into a budget surplus. (This begins the meeting video)
The District went from an approximate $350,000 deficit to a $150,000 surplus. State equalization aid is $300,000 more than anticipated, and the allowable levy is $200,000 above earlier estimates.
Superintendent Wainwright proposed providing each staff member with an additional 2% bump in pay over their 2022-23 salary. This would equal a 6% pay raise for the 2023-24 school year, instead of the current 4% raise. This proposal would cost the district $124,000.
Wainwright reiterated past conversations the Board has had around retention and recruitment of staff, as well as a desire to get as close as possible to the full CPI increase, in support of his recommendation to raise wages.
By a 4-2 vote, this proposal failed. Andy Busch and Aaron Dunn voted in favor of the raise while Rachael Bergstrom, Will Harris, Joni Heisner, and Justin Skelding voted no. Christie Johnston was absent.
Several Board members stated they desired more information before deciding how to use the surplus. Some concerns include — increased special education needs and having enough staff to serve new students. Additionally, the cost of utilities such as water and natural gas are rising, and food service and transportation contracts will be up for renewal this year, adding to unknown variables at this time.
The Board would like to revisit the surplus after the first of the year to discuss possible options again.
— The next regular meeting of the school board will be Monday, November 13 at 6 pm.