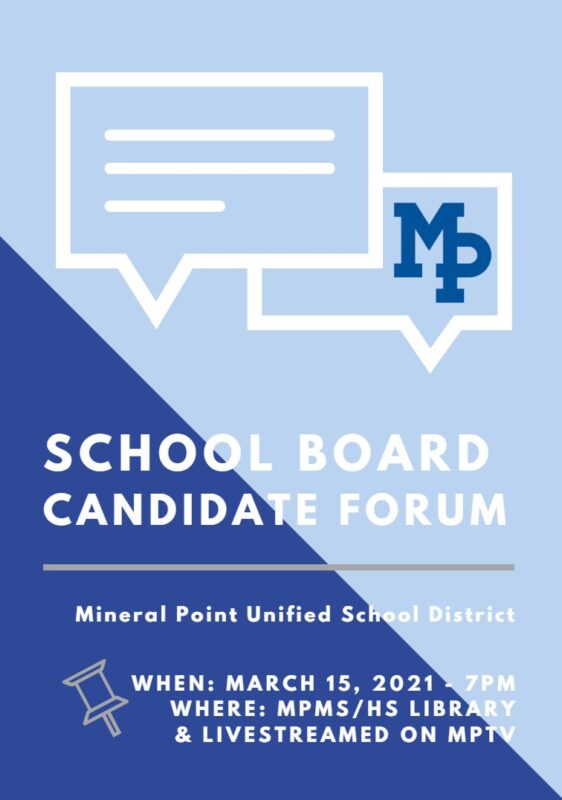 Due to inclement weather, the School Board Candidate Forum has been postponed TBA. This year's forum will again be moderated by Pointer Media high school students.
The forum will be livestreamed by our students on the MPTV YouTube Channel: https://www.youtube.com/channel/UCkK8qbOedyJlHnN89x527nw
The recording will also be saved to the MPTV channel for later viewing.
The deadline to submit questions electronically was Noon, Monday, March 15.
If attending in-person at the middle/high school library, and have not previously submitted questions electronically, you will be asked to write your questions on a card provided. Please note that not all questions may be chosen for the forum.
If choosing to attend in-person, face coverings are required.
There are three seats up for election on Tuesday, April 6, each for a three-year term.
Candidates whose names will appear on the ballot are Aaron A. Dunn (incumbent) and Justin Skelding. Robert Janetka has filed paperwork to be a registered write-in candidate.
All three have been invited to participate in the forum. Should any other persons register as a write-in candidate by filling out paperwork in the District Office prior to the Candidate Forum, they would also be invited to participate. Please contact Angela Schubert at angie.schubert@mp.k12.wi.us or 987-0740 with any questions. The deadline to be a registered write-in is Friday, April 2 at Noon.
The event is expected to last approximately an hour to an hour and a half.