Gary Sullivan has just been appointed by the School Board at tonight's meeting (Monday, October 14) to fill the vacant School Board seat left by Andrew Busch (who, by law, needed to resign in order to apply for a position with the district).
To read Mr. Sullivan's interest letter: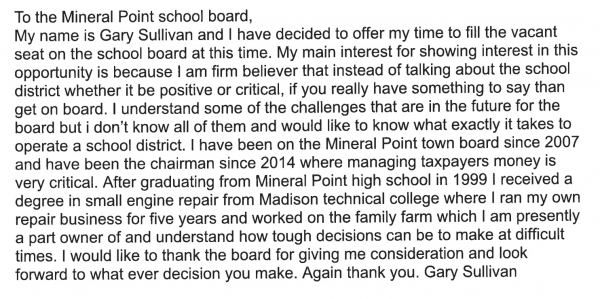 Board policy directed how the vote was to take place. Board members used a signed ballot. A candidate would have needed four votes (a majority) to be declared the winner. If a candidate received no votes, he/she would not be advanced to the next round. A maximum of five rounds would take place before a random drawing, if necessary.
First Ballot
Andrew Busch: 3 votes
Gary Sullivan: 3 votes
Joni Heisner: 0 votes
Debra Hintz: 0 votes
Robert Janetka: 0 votes
Second Ballot
Gary Sullivan: 4 votes
Andrew Busch: 2 votes
In the April 7th election, three seats will be up. The top two vote getters will each receive a three year term, with the third place finisher receiving a two year term. Those needing to run for their seats, if interested, will be Jeff Basting, Tony Dahl, and Gary Sullivan. If they choose not to run, non-candidacy needs to be filed by Friday, December 27th at 5 pm. Any new candidates need to file by Tuesday, January 7th at 5 pm.