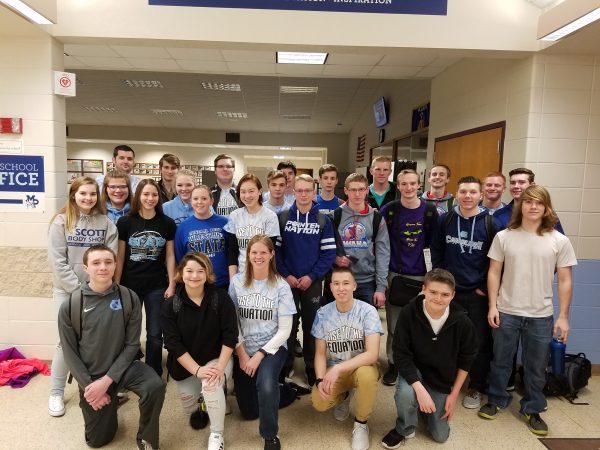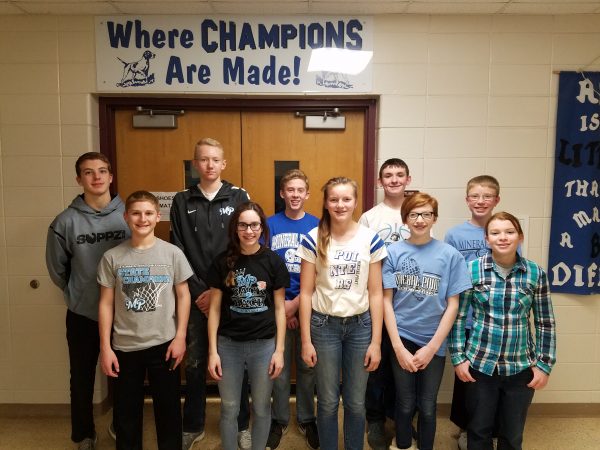 The Mineral Point Middle and High School Math Teams had another stellar SWAL Conference Meet on Thursday, March 9 in Fennimore.
For the high school, one gold, silver, and bronze are awarded in each division (unless there is a tie).
Mineral Point tied for the top score in the Pre-Calculus Division with Abby Shannon bringing home the gold.
Silver medals were earned by: Nick DuBois, Advanced Algebra; Josie Lindholm, Geometry; Hans Miller, Pre-Calculus; Colton Wilson, Geometry.
Bronze went to: Cody Pierce, Algebra 1; Haakon Schriefer, Calculus; Morgan Vondra, Algebra 1.
For the middle school, multiple gold, silver, and bronze medals can be won.
Golds went to: Drew Hottenstein (2nd overall and one point behind 1st place); Will Straka (Tied for 3rd overall); Rita Wilson (5th overall); Emma Steffes (6th overall); Ella Chambers (7th overall); Brayden Dailey (9th overall); Ian Keyes and Cameron Wiegman.
Silver: Jared Wedig.
Bronze: Ella Fox.
In the high school photo, pictured left to right, are: Front row: Nick DuBois, Abby Shannon, Mrs. Cindi Nothem, Hans Miller, and Cody Pierce. Middle rows: Josie Lindholm, Sara Heisner, Kylie Sullivan, Morgan Vondra, Hannah Ryser, Lily Wong, Mitchell Schaaf, Karsten Bakken, Matthew Berg, Ethan Dickler, Chad Yeager, and Skyler Horn. Back row: Mr. Ben McWilliams, Fulton Flanary, Haakon Schriefer, Brady Palzkill, Cole Wilson, Brandon Dolphin, Sean Wahlin, Jacob Wedig, and Owen Stephenson.
In the middle school photo, pictured left to right, are: Front row: Jared Wedig, Ella Chambers, Emma Steffes, Ella Fox, and Rita Wilson. Back: Will Straka, Brayden Dailey, Cameron Wiegman, Ian Keyes, and Drew Hottenstein. Not pictured: Mrs. Deb Soper and Mr. Mike Chambers, along with alternates Carson Thomas and Bo Hanson.
Congratulations to everyone on an outstanding performance!