At Monday night's regular monthly meeting, the Mineral Point School Board was treated to student demonstrations of great work being created with the plasma cutter, 3D printer, and laser engraver in Mike Robinson's and Kyle Carey's classes. (Scroll past video for more article and photos)
Lane Eggers, Bodhi Logueflower, Devon Manning, Tommie Loken, Jake Steffes, and Larry Steffes Jr. all assisted with the demonstrations, which proved to be a great way to showcase the equipment the District and Board have made a financial investment in, as well as the students' talents.
Addison Dailey also showcased two of his videos made using the school drone. He plans to attend college in Los Angeles in the fall with dreams of becoming a filmmaker.
One of the focus areas of the District's Strategic Plan is Technology Use in Schools, and Board members were appreciative of the opportunity to view the equipment in action and look forward to more demonstrations around other initiatives. (Go to the 21 minute mark of the video.)
Other business:
–The Board recognized State Wrestling participants Caden Carey, Danny Pittz, and Riley Workman. (This begins the meeting video)
–The Board approved the credit card statement and bills payable with Larry Dolphin, Lisa Hay, Glenn Kinch, Julie Stephenson, and Larry Steffes voting yes; Jeff Basting abstaining; and Andy Busch absent. (Go to the 6 minute, 30 second mark.)
–Another part of the District's Strategic Plan is a key initiative of the use of intervention specialists to close gaps and reach 100% proficiency in reading by 3rd grade.
Kimberly Diefenbach and Rachael Schroeder presented the Board with the latest data on the students they work with to help achieve this result.
Schroeder was doing much of this work alone for the last several years, but the addition of Diefenbach to the intervention staff this current school year has really ramped up intervention efforts. Many of their work comparisons can be found here with charts that show in the left column what it was like with just Schroeder and in the right column, how services have expanded with the addition of Diefenbach.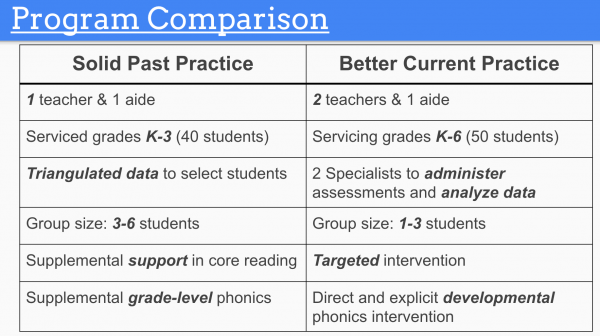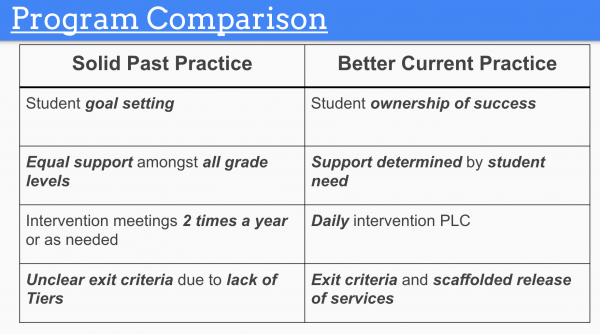 Fall to winter intervention student growth data was shared for kindergarten through 6th grade. In the fall, 26 students were receiving intensive interventions, five strategic, and four grade level.
In the winter, those numbers have improved to nine intensive interventions, eight strategic, and 18 grade level.
14 students have been dismissed from intervention supports, eight students achieved enough growth to move to a lower level of intervention, and 89% of students are now on track to meet the goal of 100% reading proficiency by 3rd grade (in the fall it was 64%).
Diefenbach said the program has been wonderful for kids, even that struggle with reading, to be able to see their progress through their data notebooks and realize that even they can become readers, too.
Schroeder said it has been amazing for her to be able to talk to someone (Diefenbach) who does the same work she does. She doesn't feel like she's on an island anymore and feels a better connection to her work.
The duo expressed the desire to see the program expand with reading interventions to grades 7-12, and have heard from staff how a math interventionist would be a wonderful addition as well.
(Go to the 28 minute, 15 second mark.)
— The Board expressed a desire at a previous meeting to be presented with a complete revenue and expenditure history regarding the Stadium Project.
That document is available here: https://v3.boardbook.org/Public/PublicItemDownload.aspx?ik=40211075
Board member Hay stated that this clearly shows, even though the Board sees bills on the monthly accounts payable each month, the money is not coming out of the general school fund and is being privately raised.
Hay questioned when football will begin to be played on the new field and Superintendent Luke Francois stated that is a conversation for a committee that is meeting shortly. He said the option is there for fall 2017 games, but that would be with no lights, so there are pros and cons to playing day games.
(Go to the one hour, one minute, 30 second mark)
–The newly convened School Safety Committee held its first meeting February 27. The committee's goal is to study and make recommendations to the Board.
A detailed summary of the meeting can be found here: https://v3.boardbook.org/Public/PublicItemDownload.aspx?ik=40217904
(Go to the one hour, 13 minute, 15 second mark)
–The Board held two first readings of policy revisions for Filling Board Vacancies and Officers of the Board. These were just for information and discussion and will be brought back for a vote at next month's meeting. (Go to the one hour, 25 minute, 15 second mark)
–The Board unanimously approved six policy revisions for Student Activity Fund Management, School District Mission, School District Legal Status, School Board Legal Status, School Board Elections, and Board Member Qualifications.
Many of these policies had not been revised in decades, so the Board is taking a look at its policies to make sure language is current with the latest state and federal regulations.
(Go to the one hour, 28 minute mark)
–The School Board Candidate Forum is set for Wednesday, March 15 at 7 pm in the middle/high school library. The next regularly scheduled Board meeting will be held Monday, April 10.