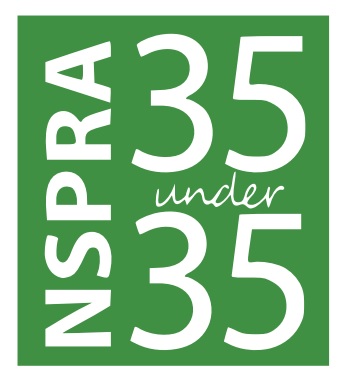 On December 19, the National School Public Relations Association released its biennial list of names honoring the top 35 School Public Relations Professionals in the United States under the age of 35.
Joelle Doye, Communications Director for the Mineral Point Unified School District, is one to receive this distinguished recognition.
Many new leaders in school PR are young professionals who are proving that strategic school communication is timeless and translates easily to the next generation. Every two years, NSPRA recognizes members age 35 or younger who are making a difference in school districts across the country through extraordinary leadership and vision.
When asked about Doye's award, Superintendent Luke Francois stated, "The Mineral Point community witnessed first-hand the amazing impact Joelle's work has had on school communications and transparency.  Joelle's work recognized at the national level validates how fortunate Mineral Point is to have someone with her strengths and talents and I join our staff in congratulating her for this prestigious award."  
This is the second year in a row Doye has received national recognition. In 2015, she was named a NSPRA Seminar Scholarship recipient, one of only two in the nation.  
In addition to Doye, only one other Wisconsin school PR professional has been honored before, and that was in 2012. Recognized was Stacy Tapp, Director of Communications and Public Information, Racine Unified School District.
The criteria to be eligible to be nominated as a member of the 35 Under 35 is straightforward. You must be age 35 or younger as of May 1, 2016, you must have worked in school public relations for at least a year, and you must be a professional member of NSPRA. After the nomination period is closed, nominees are invited to submit a brief description of their school public relations experience. Once all of these profiles have been submitted, judges choose the next 35 Under 35 class based on outstanding responses.
Members of the 35 Under 35 classes have contributed to NSPRA in various helpful ways. Many serve, plan to serve, or have served as chapter officers. Some write for the NSPRA Social School PR blog, have presented at NSPRA Seminars, or participated as panelists for PR Power Hours. Their insight is invaluable in keeping NSPRA on the forefront of school public relations.
NSPRA Executive Director Rich Bagin, APR, noted, "It is exciting to see these young professionals step up to meet the challenges of our school communication profession. They continue to grow and also have much to share with all NSPRA members."
To view the entire list of honorees, click here: https://www.nspra.org/files/docs/35under35-2016.pdf
Since 1935, the National School Public Relations Association, centered in Rockville, Maryland, has been providing school communication training, products, and services to school leaders throughout the United States and Canada. NSPRA's mission is to advance education through responsible public relations and communication that leads to success for all students.
Doye is a 2002 graduate of Dodgeville High School and a 2006 alumna of UW-Platteville with a Bachelor's Degree in Social Studies Education. After working for a decade as a sports reporter for The Dodgeville Chronicle and eight years as editor of The Democrat Tribune, she began as Communications Director for Mineral Point Schools in the fall of 2014.