The results from state tests administered in Spring 2015 have been released and show Mineral Point Schools are significantly above state averages.
Families received results for their individual students a few months ago. Due to the complexities involved in adopting a series of new online assessments, setting performance levels, and ensuring the highest quality in data reporting, the release of statewide and district wide data occurred later than originally anticipated. Now that results have been summarized at the school, district, and state levels, the district can use the summary data to inform our improvement plans.
The new online assessments (Badger and Dynamic Learning Maps) are more rigorous measures of our students' academic performance. The assessments are designed to measure students' progress toward grade­-level knowledge and skills, and replaced the Wisconsin Knowledge and Concepts Examinations (WKCE) and the Wisconsin Alternate Assessment for Students with Disabilities (WAA­SwD).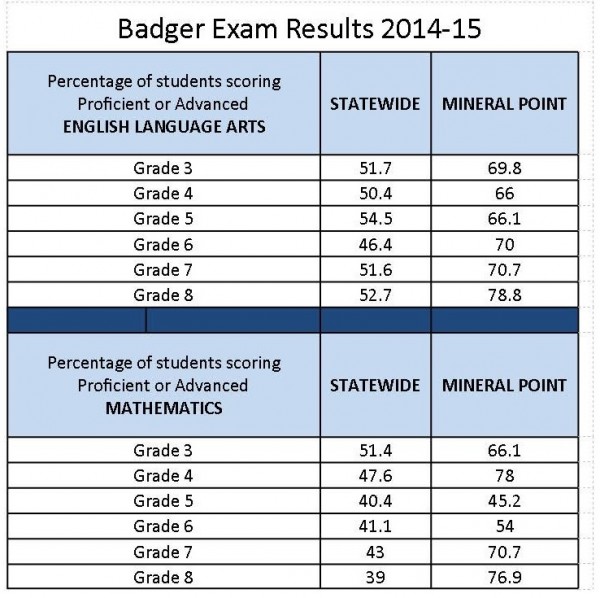 Meanwhile, 11th grade students had the following results on the ACT exam.
For reporting and accountability purposes, student performance is reported for ELA and Mathematics. Mineral Point Juniors scoring proficient or advanced in English Language Arts on the ACT totaled 66.1 percent, compared to the state average of 45.6 percent. In Math, 47.2 percent of Mineral Point Juniors scored proficient or advanced, compared to 36 percent statewide.
The ACT replaced the 10th grade Wisconsin Knowledge and Concepts Examinations in English Language Arts, Mathematics, and Science. This is the same ACT assessment that students nationwide take as a college admissions exam and has a solid foundation in measuring college and career readiness. More than 65,000 juniors in the state took the ACT or DLM.
These assessment results provide important information about what our students have and have not learned relative to the rigorous standards maintained at all schools. In addition to providing parents and community with a snapshot of students' college and career readiness, the statewide assessment results help form roadmaps for school improvement planning, teacher professional development activities, and closing achievement gaps.
This spring, students in grades 3-­8 will be taking the Wisconsin Forward Exam, as well as the DLM, ACT Aspire and The ACT, and WorkKeys.
"The data provides focus for efforts on areas in need of improvement. Some areas were already known to be deficient with plans of improvement underway that will take time before efforts are reflected on state tests and other areas allow us to begin laying groundwork for improvements to come," said Superintendent Luke Francois. "Overall I am most pleased with our schools' academic growth over time and consider our scores to be comparable to the best schools in Iowa, Grant, and Dane counties."
The district is confident students will continue to excel and that this data will contribute to a deeper understanding of students' performance. Administrators look forward to examining trends at Mineral Point when multiple years of data on college and career readiness are available from these rigorous exams.