Sarah Syvrud has just been appointed by the School Board at tonight's meeting (Monday, November 15) to fill the vacant School Board seat left by the passing of Larry Steffes.
(Meeting video link: https://youtu.be/eP773-TB2nE)
To read Syvrud's letter of interest: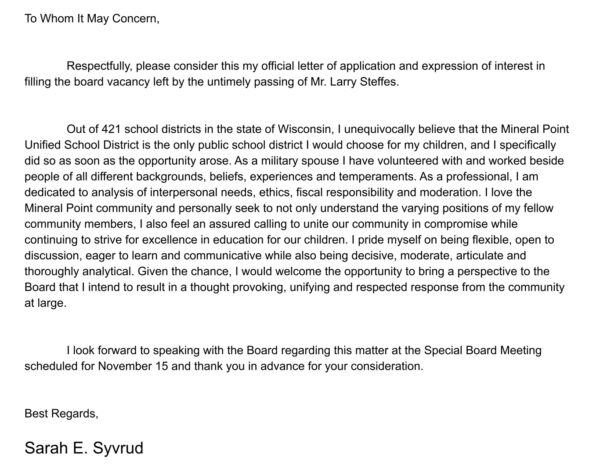 Board policy directed how the vote was to take place. Board members used a signed ballot. A candidate would have needed four votes (a majority) to be declared the winner. If a candidate received no votes, he/she would not be advanced to the next round. A maximum of three rounds would take place before a random drawing, if necessary.
First Ballot receiving votes
Christy Cole 2
Sarah Syvrud 2
Everett Lindsey 1
Alan Schrank 1
Erik Bakken, William Harris, and Christie Johnston did not receive votes.
Second Ballot receiving votes
Lindsey 2
Syvrud 2
Cole 1
Schrank 1
Board adjourned to closed session to discuss candidates prior to the third round of voting.
Third Ballot receiving votes
Syvrud 6
In the April 5th election, two seats will be up. The top two vote getters will each receive a three year term. Those needing to run for their seats, if interested, will be Gary Sullivan and Sarah Syvrud. If they choose not to run, non-candidacy needs to be filed by Friday, December 24 at 5 pm. Any candidates, including incumbents, wishing to have their name appear on the April ballot need to file by Tuesday, January 4th at 5 pm in the District Office, 705 Ross Street.
Other Business:
— The approval of hiring a part time elementary custodian was tabled until the December meeting. (Go to the 29 minute, 45 second mark)
— The Board unanimously approved the posting of a long term substitute teacher position at the elementary school, to be re-evaluated after 60 days, and paid for with ESSER monies. (Go to the 31 minute, 30 second mark)
— The Board approved by a 6-1 vote (with Sullivan voting no) the approval of posting an RN position to assist the School Nurse for 60 days, to be paid for with ESSER monies. (Go to the 40 minute mark)
— The Board unanimously approved a purchase over $5,000 to purchase a reading intervention program for grades K-5 to be paid for with ESSER monies. (Go to the one hour, four minute, 45 second mark)
— The next regular meeting will be held Monday, December 13 at 5 pm (the start time is early due to the Middle/High School Winter Concert that same evening at 7 pm).