The Mineral Point School Board heard great news regarding student achievement, as reported on the Forward Exam, Aspire, and ACT tests. (Scroll past video for more article text)
Elementary Principal Matt Renwick attributed the results to several factors, including: the Professional Learning Communities process, being more strategic of how the district is working with kids, Response to Intervention, and co-teaching, helping to bridge gaps with students with disabilities.
Superintendent Luke Francois added that, during an upcoming budget discussion meeting, he will share how the district's academic results compare to what the district is spending per pupil.
A chart that shows how the district stacks up to neighbors with regards to proficiency percentage on the Forward exam for grades 3-8 is here and Mineral Point is leading the way: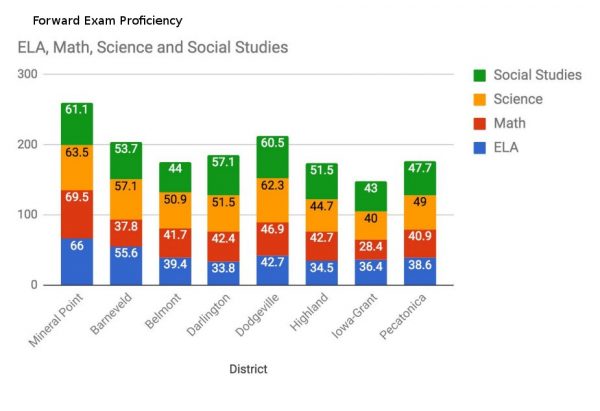 The entire report to the Board in detail about state testing can be found here: https://v3.boardbook.org/Public/PublicItemDownload.aspx?ik=41350586
(Go to the one hour, 55 minute, 20 second mark)
Other business:
— The meeting began with the Superintendent's Good News Report, which can be viewed here: https://docs.google.com/presentation/d/1u0uCrd0yAoJrJ_M1vwnQdPB105LXwkMHqc8QPp3KuAo/edit?usp=sharing
— FEH Design met with the Board in August to share a public engagement process for facility planning.  The board requested that FEH return with an exact cost for a condition/site assessment and roof investigation proposal.
Kevin Eipperle of FEH updated the Board that the secure entrance remodel at the elementary is out to bid with at least four different bidders and is due back in about 10 days.
There were three different proposals before the Board.
The first one discussed was the middle/high school roof evaluation coordination – coordinate the opening of the roof at the most recent leak locations to investigate the cause. Fee $1,800. Note that the district has already approved FEH to develop solutions and budgets for repair ($1,200). The actual cost of opening the roof and putting it back to current condition is not included in this fee.
Greg Callin, Vice President of Client Relations for Kraemer Brothers, was on hand to add additional details. He stated that Kraemer Brothers have already looked at the roof, stating it is a complicated roof with a combination of standing seam and membrane, lots of transitions and angles, jagged edged stone used on the membrane part of the roof which can cause cuts, the pitch is wrong in some areas, and the caulking used is the wrong product and needs to be redone.
Callin suggested opening four to six spots on the roof with a roofing contractor for investigation. The Board would then be presented with options for repair, based on their findings.
The Board approved this option (with a cap of $10,000 for the Kraemer Brothers portion) by a unanimous vote. Steffes was absent.
The next proposal discussed and voted on was the Facility Condition Assessment. The FEH team would review the two school buildings on a general basis to identify code, maintenance and ADA needs. They would then provide a summary of items and associated costs that can be used for a project or future maintenance budgeting. High School – Fee $4,000, Elementary School – $3,500.
The motion approved was to approve only the $3500 assessment for the elementary. This passed 5-1 with Gundlach voting no.
The last option discussed was the elementary school site evaluation – FEH engaged a civil engineer to assist with a traffic study and site evaluation of the elementary school site. They would develop solutions to improve bus pick up and drop off, parent pick up and drop off, pedestrian access, staff parking, outdoor play areas, secure daytime entrance and overall site safety and circulation. Fee $6,775
Voting yes to this were Gundlach and Dolphin with Hay, Stephenson, Basting, and Busch voting no. The motion for the elementary site evaluation did not pass. (Go to the one hour mark)
— The Board heard an enrollment report from Francois. As of the 3rd Friday Count, which is what is used by the Department of Public Instruction for purposes of calculating state aid, there are 724 students in classrooms. 85 of those students are open enrolling into the district. Six students are part time. 43 students are open enrolling out. After making the conversions for early childhood and Pre K students (which only count as a partial student), the district has a Full Time Equivalency count of 676 students.
This is a decrease in approximately $200,000 in loss revenue from last year, which Francois stated is partially offset by open enrollment, but is still a big part of the projected budget shortfall. (Go to the two hour, 22 minute, 30 second mark)
— Francois provided the Board with a budget update.
The state budget is now finalized and Mineral Point's budget will be set accordingly.  Francois discussed balancing the budget over the biennium as the current forecast displays a budget shortfall between $100K and $200K.  The final District budget is scheduled for Board approval Monday, October 23rd at 6:30 pm.
At this time, the property values are expected back from the state by October 15. These are vital in determining the tax levy, which is currently expected to increase 2%.
Francois stated the District is looking at a 1% increase in expenditures this year compared to last.
The budget summary for publication can be found here: https://v3.boardbook.org/Public/PublicItemDownload.aspx?ik=41349369
(Go to the two hour, 26 minute mark)
— The Board approved the credit card statement and accounts payable by a 5-0-1 vote with Basting abstaining.
There were some questions regarding the heart rate monitors purchased for physical education students. The cost was $4,935, just short of the $5,000 amount that requires Board pre-approval.
Member Hay questioned if, given the projected budget shortfall facing the district this year, the monitors are needs or wants.
Francois stated he had spoken with teachers Scott Schmitz and Quinn Schultz and believes they are needs to take the physical education program to the next level.
Member Stephenson suggested the Board look at putting a policy or statement in place with regards to spending given the budget shortfall so staff are aware instead of "picking off things during bills payable."
Member Gundlach stated she would like more justification from teachers on how purchases will "up their game" in the classroom. (Go to the 12 minute, 15 second mark)
— Band director Matt Nevers requested approval of part two of an order for band uniforms in the amount of $12,985.  Additional uniforms were requested to diversify sizing.  The band also needs more uniforms in general as in two years, more than 50 people are projected to be in the band.
The request passed 5-1 with Hay voting no, stating she it was due to the quantity requested. (Go to the 32 minute, 30 second mark)
— Elementary Information & Technology Specialist Kari Kabat requested approval of a budgeted item for the inclusion of iPads/iPad Minis for students at the elementary school in the amount of $22,440.
She stated that the price received through Apple for Education equates to $374 per device, compared to a regular consumer purchasing the same product at $400.
Member Hay questioned if the quantity was too high and the school could get by with less devices.
Francois said it's important to engage kids where they're at, and electronic devices are certainly a part of today's world.
Member Gundlach expressed concern with the amount of screen time in students' lives and how that can impact brain development.
Elementary Principal Matt Renwick stated he shares Gundlach's concerns, but is pleased with how students are using electronic devices. "They don't just consume media; they are creating it and working together. Not all screen time is created equal," he said.
The Board first voted on a motion to approve 30 of the requested 60 devices. Voting yes were Gundlach, Stephenson, Basting, Dolphin, and Hay. Busch voted no.
A second motion was then made to approve the 30 additional devices, but make them available to grades Kindergarten through 2nd. Voting yes were Stephenson, Busch, and Gundlach. Voting no were Basting, Dolphin, and Hay. A tied vote is a failed vote, so no action taken.
A third motion was then made for 10 additional devices to, essentially, make two classrooms worth. Voting yes were Busch, Gundlach, Stephenson, and Hay. Voting no were Dolphin and Basting.
In the end, 40 iPads will be purchased for grades K-2. (Go to the 35 minute mark)
— Francois stated the tech ed dust collector is scheduled for installation October 17th. (Go to the two hour, 34 minute mark)
— Recent high temperatures and humidity levels in buildings were of concern to staff and not ideal for student learning.  The Board discussed how similar school days should be handled in the future to perhaps include a plan for adding climate control to school buildings, or changing policy to address the handling of high-temperature school days, and any other viable options.
It was mentioned that, much like with snow and cold weather days, there will always be some people who agree with the decision to cancel classes, and others that don't.
The Board generally agreed to allow discretion by the administrative team to come together and make decisions regarding hot weather days. (Go to the two hour, 35 minute, 15 second mark)
— The Board heard a report of elementary space evaluation.
Based on a recent report, classrooms are too small and noticeably so in the fourth and fifth grades.  Classrooms in the original building are roughly 725 square feet and in the new addition approximately 825 square feet.  Classrooms built for today's 21st-century learning spaces are a minimum of 900 square feet.  
Survey results from elementary staff share areas of greatest staff concern in the elementary building. Those results can be viewed here: https://v3.boardbook.org/Public/PublicItemDownload.aspx?ik=41321938
(Go to the two hour, 51 minute mark)
— The Board unanimously approved all of the policies that were up for review and action. (Go to the two hour, 58 minute mark)
— The next regularly scheduled Board meeting is set for Monday, October 23 at 6:30 pm to approve the budget and certify the levy.