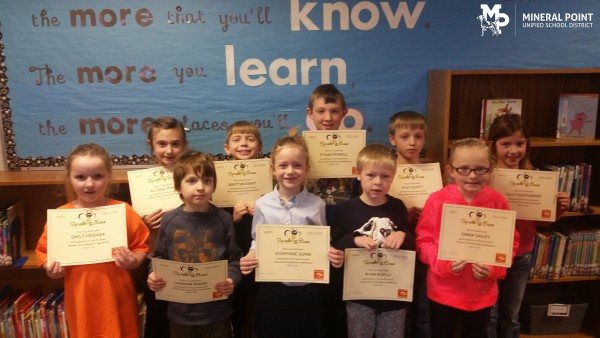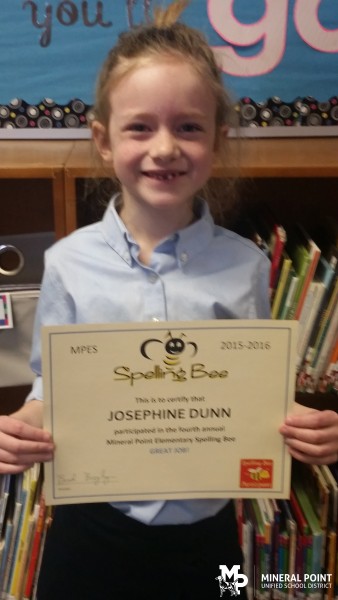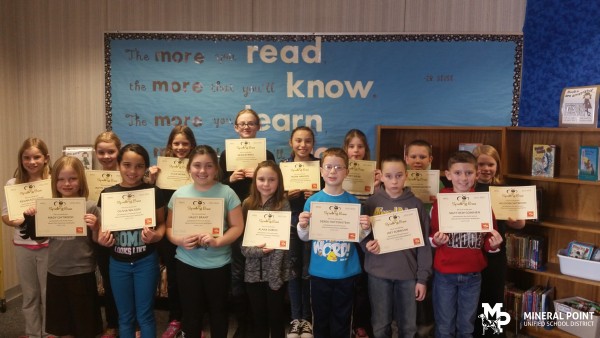 Earlier this week, Mineral Point Elementary hosted its annual spelling bee for students in grades 1-5.  The experience of a spelling bee provides each child with the opportunity to improve her/his spelling, increase his/her vocabulary and develop the correct usage of the English language.  
Each classroom completed a written spelling bee on Monday, January 25 to determine the top 5 grade level spellers. The top first and second graders competed in the MPES Junior Bee and the top third, fourth and fifth graders in the official Scripps Spelling Bee on Wednesday, January 27.  The school winner will participate in the CESA #3 East Sectional Spelling bee in Black Hawk on February 9th
Congratulations to the top 25 MPES Spelling Bee Participants:
Fifth Grade: Gena Byrnes, Alana Dubois, Allison Chitwood, Joey Robinson, Teona Hanson
Fourth Grade: Ellie Webb, Derek Hottenstein, Abby Webb, Regan Schuette, Mady Chitwood
Third Grade: Olivia Wilson, Haley Brant, Jadyn Swinehart, Jaxson Wendhausen, Matthew Goninen
Second Grade: Alyssa Jones, Brett Bossert, Riley Scott, Ethan Farrell, Emma Dailey
First Grade: Josephine Dunn, Ryan Roelli, Emily Heisner, Lilly Houtakker amd Landon Wood
A special thank you to the spelling bee committee members which includes Mrs. McDonald, Mrs. Molle, and Mrs. Niehaus.
Junior Bee
1. Josie Dunn
2. Alyssa Jones
3. Riley Scott
Scripps Bee
1. Olivia Wilson
2. Abby Webb
3. Derek Hottenstein