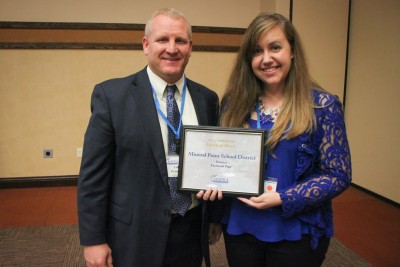 The Mineral Point Unified School District, and Communications Director Joelle Doye, were recently honored by the Wisconsin School Public Relations Association (WSPRA) with two awards for their work in school communications.
WSPRA presented the Spectrum Awards at its annual conference in Stevens Point November 5-6 where hundreds of the industry's top professionals gathered for collaboration and professional development.
The Mineral Point District award came for its outstanding Facebook page. It was one of only two school district Facebook pages across the state to be honored.
Also at the awards luncheon, Doye was surprised with the Holtshopple Scholarship Award, which is given to the top up and coming school public relations professional in Wisconsin.
Mineral Point Superintendent Luke Francois introduced Doye and concluded his speech saying, "By accepting this award, Joelle Doye actually becomes a champion of small school Public Relations and I am certain that she will pay it forward as she paves the way for other small school districts to follow."
Doye thanked the people of Mineral Point for endless support of their schools, as well as recognizing and prioritizing good communication as part of their district's strategic plan.
Spectrum Awards honor high-quality public relations efforts produced by, or on behalf of, Wisconsin school districts. This year, the statewide competition honored 24 school districts with awards.
"Spectrum Award winners exemplify the very best communications work in school districts across the state," said WSPRA President Kevin Hickman. "The winners demonstrate the value of engaging stakeholders in order to build community support for Wisconsin's schools."
WSPRA's Spectrum Awards are judged by the Illinois School Public Relations Association (INSPRA) on a four-point scale in four areas: goals and objectives, research and planning, execution and evaluation and results.
All school districts compete against one another for WSPRA awards, regardless of enrollment size. Mineral Point was the second smallest district in the state to be honored and the only district in CESA #3 to receive a WSPRA award.
Francois nominated Doye for the Holtshopple Scholarship Award and nominees were reviewed by the WSPRA Board of Directors comprising representatives from Janesville, Milwaukee, Sun Prairie, Madison, Delavan, DeForest, Edgerton, Racine, Hudson, Oconomowoc, Oshkosh, and Green Bay.
The Wisconsin School Public Relations Association (WSPRA) is a professional association representing schools, school districts, educational associations, consulting agencies and organizations. WSPRA is a state affiliate of the National School Public Relations Association (NSPRA). The mission of WSPRA is to expand the capacity of its members to provide effective communication management for the purpose of strengthening educational opportunities for all students.