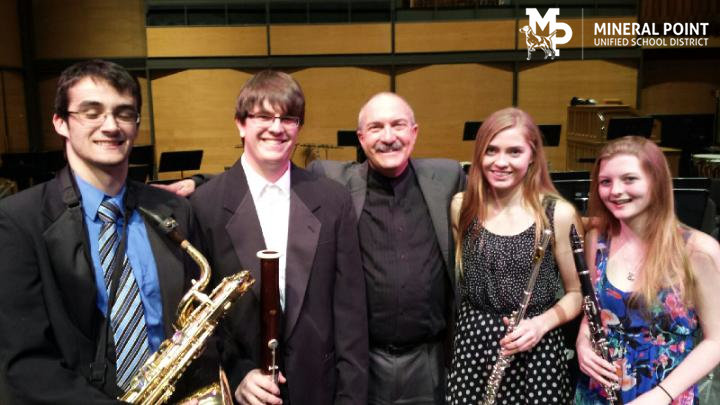 The ninth annual University of Wisconsin-Platteville Tri-State Honors Band Festival concerts took place this past weekend in the Richard and Helen Brodbeck Concert Hall, Center for the Arts.
The festival was hosted by Dr. Barry Ellis, director of bands at UW-Platteville, and Matthew Gregg, associate director of bands at UW-Platteville.
The annual honors band festival provides music experiences for high school band students and directors. More than 110 high school students were nominated from 28 schools to perform during the concerts. Of those students, 82 were selected to perform.
"UW-Platteville's annual Tri-State Honors Band Festival provides high school band students the opportunity to rehearse and perform with a nationally known conductor/clinician and work closely with our music faculty in a sectional rehearsal and master class," said Ellis. "For many, this may be their first experience playing side by side with students outside of their own schools."
On Friday evening, there was a montage concert featuring UW-Platteville music faculty and Jazz Ensemble.
The Saturday concert featured UW-Platteville's Symphonic Wind Ensemble and Festival Honors Band. The guest soloists with the Symphonic Wind Ensemble included UW-Platteville music faculty members Corey Mackey, Dr. David Cooper, Rob Shepherd, John Christiansen and Keith Lienert as well as Marty Busch, a professional area musician and UW-Plattteville alum, and Chase Pebworth, a senior music major at UW-Platteville from Cassville. The ensemble performed "Playing with Fire" by Frank Ticheli, a concerto for concert band and seven-piece Dixieland jazz band.
The guest conductor/clinician was Gary P. Gilroy, a professor of music and director of bands at California State University in Fresno, Calif. and a nationally recognized conductor/clinician. During the festival, Gilroy and UW-Platteville music faculty offered concerts, master classes, a reading session and professional clinics. All rehearsals were open, which allowed university music students to observe the guest conductor in rehearsal.
In 1993, Gilroy was appointed associate director of bands and director of the Bulldog Marching Band. After 13 years in this position, he became director of bands in 2006. Prior to this appointment, he served for a decade as director of bands at Fred C. Beyer High School in Modesto, Calif., where his band was awarded several national honors as well as the International Sudler Shield Award from the John Philip Sousa Foundation. Gilroy also served as faculty at California State University, Stanislaus. He completed his doctorate at the University of Oregon in Eugene, Ore.
Pictured with Gilroy are Mineral Point High School students Bryce Fitzsimons, Caleb Mitchell, Hannah Owens, and Kyla Sprain.