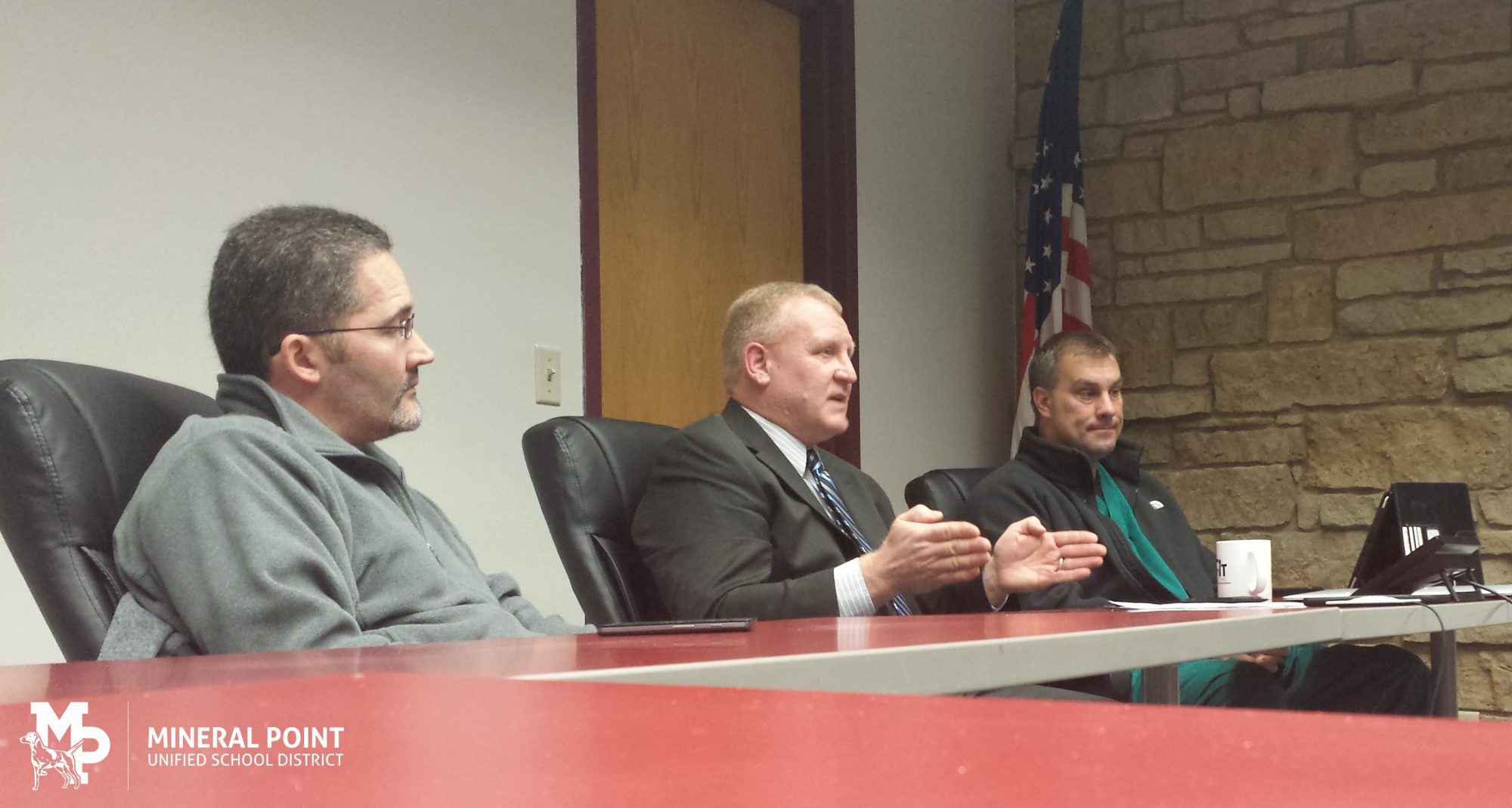 "Telepresence is a lifeline for rural schools. We are being tossed the life preserver and we have the chance to grab on."
These words were echoed by Mineral Point Superintendent Luke Francois at the conclusion of a January 26 meeting with other school leaders from Kickapoo, Pecatonica, and Riverdale schools.
These four districts, along with Highland, are proposing to enter into a consortium entitled BOOST to help increase educational opportunities for students and staff through the use of telepresence.
Telepresence is a high-definition, real-time interactive video technology system. This allows students to take classes from teachers who aren't physically in their school, and also enables teachers to collaborate easier with other professionals in the consortium.
BOOST is the acronym set to be used for the consortium, which stands for Building Opportunities and Occupations for Students Together.
"We feel this name really captures what we are trying to do and what we are all about," said Francois.
In addition to the ability of students to take classes from other high schools in the consortium, they will also have the ability to enroll in classes from higher learning institutions, such as Southwest Technical College and the University of Wisconsin-Platteville.
Some classes may be able to be counted for both high school and college credits, which is called dual enrollment credit.
Kickapoo Superintendent Doug Olsen said they currently have nine students enrolled in a college English course. It was UW-Platteville that set the parameters for admission based on a placement test. The district negotiated on cost.
"I am hopeful that, as a consortium, we can leverage a bit more as a group, compared to individually, for offerings and cost," said Olsen.
Becky Gehrke, the Technology Coordinator at Riverdale, also cited a successful example of telepresence being used in the district, but through Southwest Tech.
Riverdale is currently offering a nursing course. "Offering this option tends to accelerate acceptance into the program after high school graduation," she said. "There are often waiting lists."
"Rural schools are often lacking the curriculum and professional development that larger schools have," said Francois.
Olsen agreed, citing the discrepancy between urban and rural schools as "a fundamental unfairness."
These courses would also provide valuable exposure for students to various courses before they even get to college, including expanding offerings for Advanced Placement courses.
"Student debt after college is a real problem," added Olsen. "This consortium can help with that if students are able to enter college with several credits in hand."
The telepresence option to obtain college courses is more practical than students actually driving to and from the physical institution. "Kids having to drive there miss the hour before, and then the hour after driving back," said Olsen. "With telepresence, they can be in classes learning all day long."
Grants were obtained from the Wisconsin Technology Initiative to purchase the necessary equipment to successfully operate a telepresence program.
Mineral Point received $75,000 initially, which bought one telepresence unit, placed SMART Boards in every classroom, bought document cameras, an interactive SMART table for 4k students, and SMART response devices.
An additional $25,000 helped purchase an additional telepresence unit along with additional SMART boards.
The most recent grant just obtained in January will purchase another telepresence unit.
The consortium would continue to look for more grant opportunities and partnerships to help fund additional technology needs as they arise.
"We are also facing teacher shortages in certain subjects," said Francois. "Having a consortium would allow us to pool our resources in some of these areas."
Currently, some class offerings in the individual schools don't have enough interested students to run, or others don't have a qualified instructor.
"It is also important to educate our staff that this is not a threat to teacher jobs," said Olsen. "This is about increasing options for our students."
Francois agreed and cited a Minnesota consortium where the districts actually added full time employment due to its success.
Olsen added he believes the technology could assist with the placement of student teachers into districts as well. Student teachers are required to be supervised periodically, and therefore, are generally placed within a reasonable driving distance of their supervisors. If the supervisors could observe the student teachers via telepresence, it would expand the pool of student teachers a district could work with.
Virtual field trips are also a plus to telepresence. Prior to the holiday break, Mineral Point Middle School students took a virtual trip to the Penn Museum in Philadelphia, Pennsylvania to watch an interactive presentation on mummy making in conjunction with their unit on Ancient Egypt. There is also a presentation scheduled with a Holocaust survivor.
"Telepresence really opens up the window to the entire world," said Francois.
Mineral Point students have also been using the telepresence unit to take an ACT prep course last semester before school, along with Riverdale.
There are some keys to making this endeavor successful, and at the core would be having a common school calendar and bell schedule with all schools in the consortium. The superintendents have met and drafted such a proposal, which would need individual school board approval.
"We have even talked about coordinating fire drills within the consortium, things you don't even think about normally, to make sure learning is not interrupted for our students," added Francois.
Mineral Point School Board President Bob Oberhauser asked if the lessons were recorded and could be played back should a student miss class. Francois said right now the equipment they could afford to purchase through the grant secured does not have that capability, but is likely something to come soon down the road.
Riverdale Superintendent Bryce Bird mentioned the likelihood of one district having a snow day when the other does not. Francois noted students would be able to log in from home should they be sick or on snow days, stating students enrolled in these courses would usually be highly motivated individuals who would put forth the extra effort in these situations.
Mineral Point School Board Treasurer Matt Lindsey wondered what length of time commitment would the district enter into up front. Francois said it would be an annual agreement and thanked Highland and Pecatonica Superintendent Nancy Hendrickson for drafting the language that would serve to answer many of the technical questions.
This group of districts has been talking for sometime, developing this idea, and hopes to start this fall for the 2015-16 school year. The next steps would be for each district to take a formal proposal to its school board and obtain successful approval. Hopefully then, the districts could be in launch mode after spring break and begin developing student and teacher schedules around course offerings.
"We didn't want to move forward so quickly before we were committed and had a plan," said Francois. "We feel that time is now."
Pictured above are Mineral Point School Board President Bob Oberhauser, Superintendent Luke Francois, and Board Treasurer Matt Lindsey during the telepresence meeting with other district superintendents.
(Photo and article by Joelle Doye)