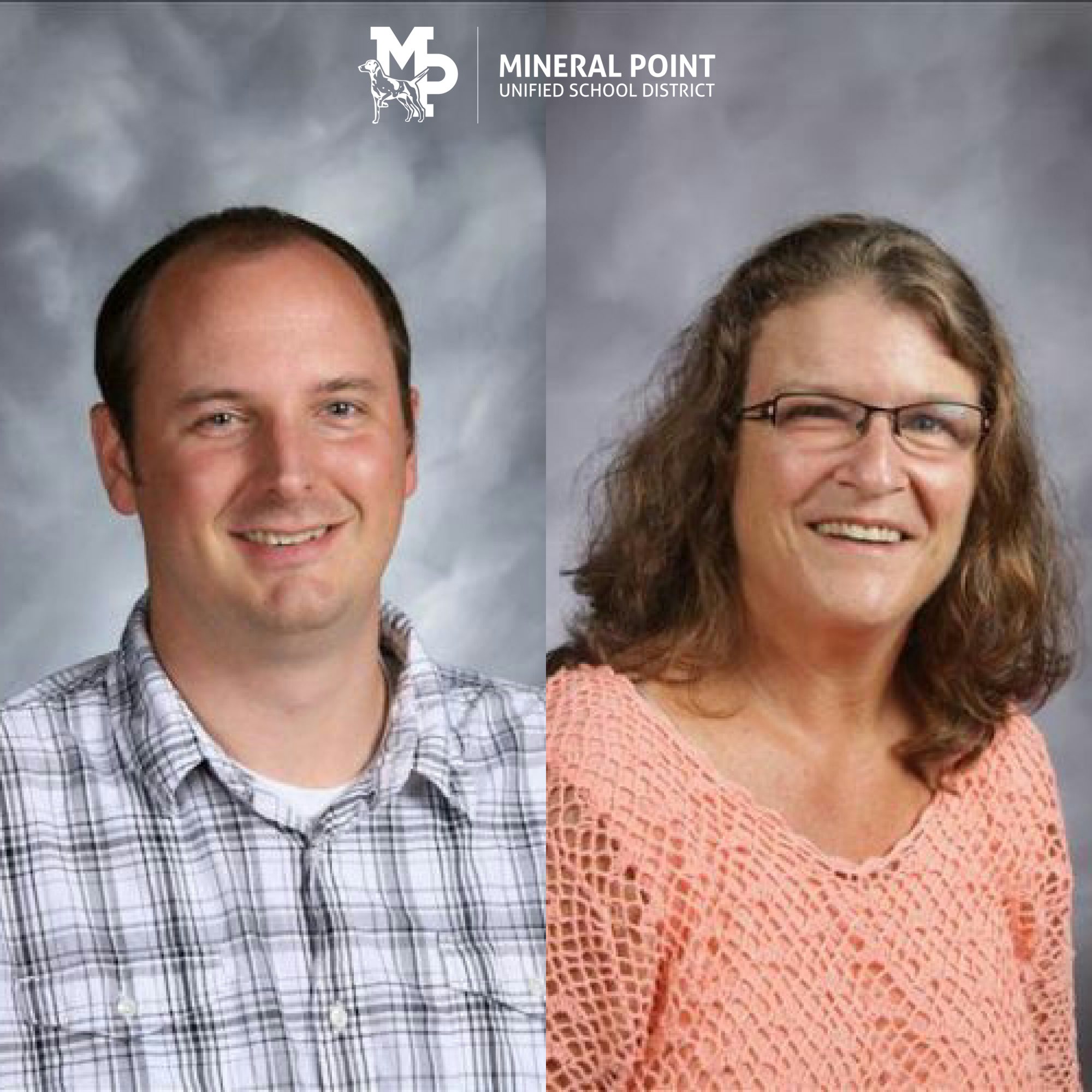 The Mineral Point Unified School District is proud to announce two of the four Herb Kohl Fellowship applications from all of the 31 school districts in CESA #3 that have been forwarded on to the state level competition are Pointers.
Matthew Nevers, high school band teacher, and Marcia Roberts, first grade teacher, are the chosen two.
The purpose of the Kohl Teacher Fellowship program is to recognize and support teaching excellence and innovation. The Herb Kohl Foundation's goal is to support teachers in pursuit of their unrealized goals for their classrooms or professional development. Fellowship recipients are chosen for their superior ability to inspire a love of learning in their students, their ability to motivate others, and for their leadership and service within and outside the classroom.
"Being nominated for a Kohl Fellowship is a great honor," said Mineral Point Superintendent, Luke Francois. "I consider it one of the most prestigious recognitions available to teachers in the state of Wisconsin because nominees are nominated by parents and colleagues. It is simply a recognition of the great work that many teachers do, but often without notice. Matt and Marcia are very deserving of state level consideration."
The applications were recently read at the local level and the evaluation team reported it received several excellent applications. However, per CESA, a maximum of only five teacher and five student applications can be forwarded on for state consideration by the Department of Public Instruction.
Nevers and Roberts will have their applications read by the state selection committee at the end of January. The announcement of the winners will likely be made public in early March. Last year, 100 Wisconsin educators each received a $1,000 grant for their school.
Recipients are selected by a statewide committee composed of civic leaders and representatives of education-related associations and the program's co-sponsors: The Wisconsin Newspaper Association Foundation, Wisconsin Department of Public Instruction, Wisconsin Council of Religious and Independent Schools, and regional Cooperative Educational Service Agencies.
"The experiences that Matt provides for his students are outstanding," said Mitch Wainwright, Mineral Point High School Principal. "If you look at the number of musicians that have played at a state, national, and even international level, you will see an incredible opportunity for our students. Music has created these wonderful opportunities and Matt has provided the guidance for these students."
"I am continually impressed by Mrs. Roberts' work ethic and devotion to her students," said Brad Brogley, Mineral Point Elementary School Principal. "She does whatever it takes to ensure her students are learning and having fun while learning."
This program was established by retired U.S. Senator, Herb Kohl, in 1990. To date, the foundation has awarded nearly $9 million to Wisconsin educators, students, and schools.
In addition to Nevers and Roberts, the other two teachers from CESA #3 to have their applications forwarded are Garrett Jones of Platteville and Lynn Michek of Highland. The student applications forwarded from CESA #3 include: Andrew Ihm, Cassville; Anna Johnson, Boscobel; Cole McDonald, Darlington; Joseph Meinholz, River Valley; and Zachary Swaziek, Riverdale.
Past Mineral Point recipients of the Herb Kohl awards at the state level include:
Student Excellence: Marsha Bingham, 1991; Christopher Marr, 2004.
Student Initiative: Sarah Janke, 2002; Cory Sokol, 2005; Sierra Gunderson, 2011.
Teacher Fellowship: Bonnie Laverty, 1997.
(Article by Joelle Doye)