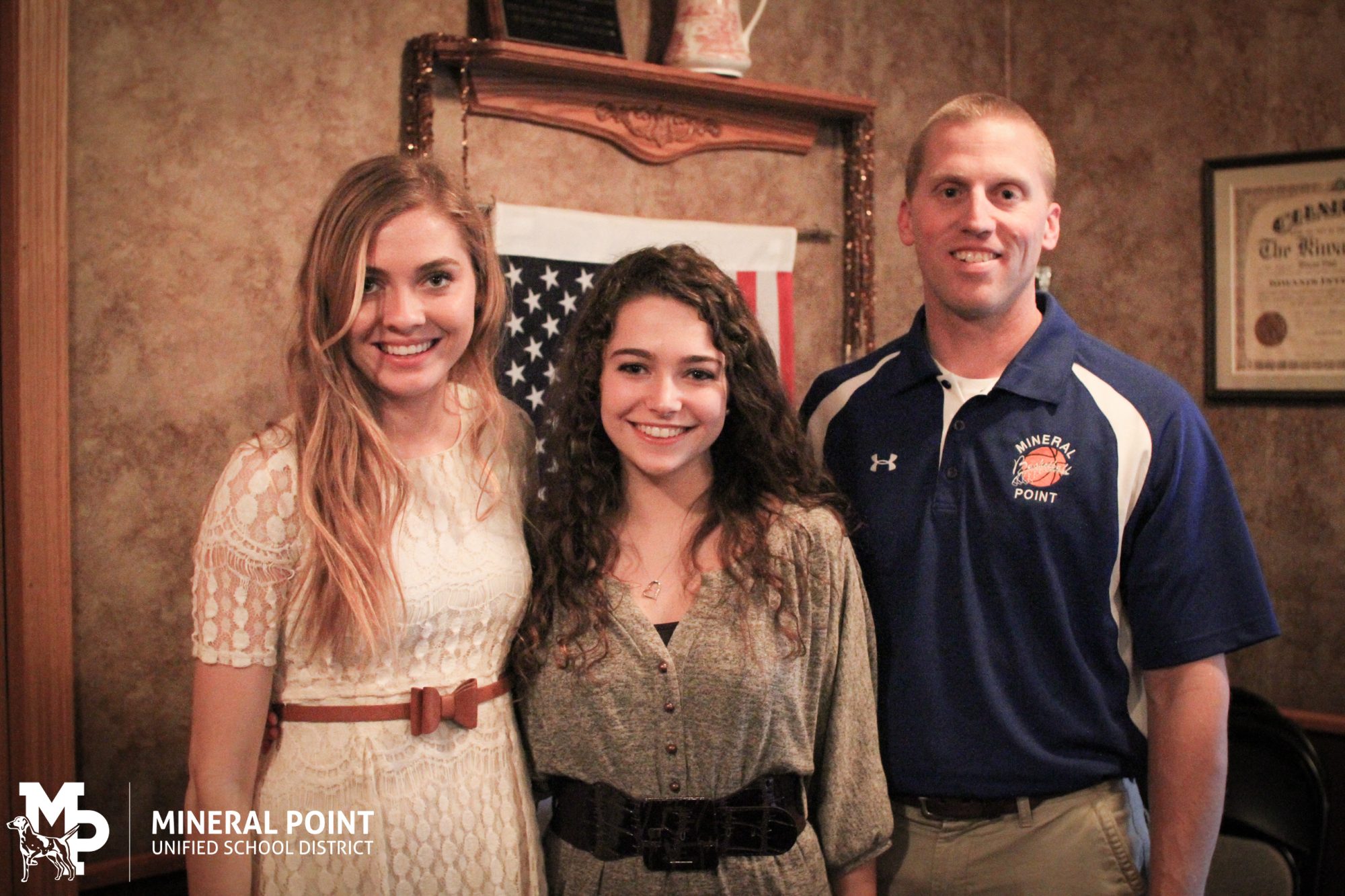 The Mineral Point Kiwanis Club honored its January Students of the Month at its meeting Tuesday, January 20 at the Pointer Café.
The students, whom are members of the senior class, are selected for this honor through a voting process by staff at the school, and their biographies are written by themselves.
Hannah Owens
My name is Hannah Owens, the daughter of Bruce and Julie Owens. First, I want to say thank you to the Mineral Point staff for choosing Elise and I as Students of the Month. I know we both feel very honored. Thank you also to the Kiwanis Club for arranging this wonderful banquet.
I am an only child and have lived in Mineral Point all my life. There are several things in my life that have had great impacts on me and have made me who I am today; the biggest of these is running. Running is my biggest passion; it serves as a source of stress relief for me, and I can honestly say running has helped me the most in finding myself. When I run, I find parts of myself yet undiscovered, and learn something new about myself every run. Running also serves as a great source of inspiration for me; I often come up with my best ideas on runs. It has also taught me a lot about life–about being brave and strong, about the rewards of hard work and never giving up, and about believing in yourself.
Music is also a huge passion of mine. It also serves as stress relief and a way of finding myself. The same goes for writing. All three of these things have been parts of my life for a very long time, and they will continue to be big parts for as far as I can see. In school, I am a member of the Dodge-Point cross country and track and field teams, play flute in the high school band, and am a member of forensics, National Honor Society, and Key Club. I do a few activities outside of school as well. I have been dancing for Betty Hayes since I was three years old. I also waitress at Pizza Hut. I am also a member of Hope Lutheran Church.
There are several people I am extremely thankful for, people that I wouldn't be where I am without. While I have learned a lot from all of the teachers at Mineral Point, there are a few that have been especially helpful to me in life: Mrs. Kristin Staver and Mr. Tom Steger for always being so supportive of me and for being simply amazing teachers; Mrs. Anne Palzkill, who encouraged me to pursue my writing passion in elementary school; and Mr. Matt Nevers, my band teacher, for inspiring me every day and for encouraging me to never give up music. I am also very thankful for my piano teacher, Mrs. Dorothy Prouty, for teaching me so much about music and life and for inspiring and motivating me to continue with my music and to find music everywhere. Also, I want to give the biggest thank you to my parents for always being so supportive of me and all that I do. I would not be anywhere near where I am today without the constant love, support, and encouragement they give me; they do so much for me and I am so grateful.
I also want to thank the administration very much for being so supportive of the co-op with Dodgeville for cross country and track. Being part of the Dodge-Point cross country and track teams has been one of the best experiences of my life, and I would not have had that experience were it not for the support of the co-op.
I will be attending Lipscomb University in Nashville, Tennessee next fall. I will be running cross country and track and field for the Bison and plan on majoring in English/creative writing with a possible minor in music, history, or Spanish. As for most seniors, the college decision was a very difficult one for me, but I know I made the right choice, and I am very excited for this next chapter of my life.
I also wish to congratulate Elise Powers on being chosen as a Student of the Month; she has been one of my best friends, basically a sister, for a very long time. She is a very talented, hard-working girl, and I know she will be successful in all that lies ahead of her.
Elise Powers
Elise is the daughter of Lauren and Richmond Powers. She loves living in such a heartwarming town and community where everyone supports everyone in anything that they do. Mineral Point is such an amazing little place and Elise is more than happy to be a part of all the great things this town has to offer.
Elise is involved in football cheerleading, dance, Skills USA, Key Club, Blue Crew (pep club), World Cultures Club, and a member of the yearbook staff. Elise has been in concert band, pep band, and marching band every year in high school. She has also been a manger for the wrestling team for the past four years. Elise was a homecoming court representative her freshman and senior year and was also voted prom queen by her peers her junior year. This year, Elise has been cast in the role of Annie in the high school musical, Annie.
Elise enjoys all of her classes in her senior schedule but Chemistry II is her favorite by far. Ever since she took Chemistry I her junior year, she has had a passion for it. Elise is also in her fourth year of Spanish and is currently a Spanish tutor for an elementary student. While in high school, Elise has competed in the Skills USA state competition and was awarded second place last year in the criminal justice category. Elise received the Outstanding Academic Achievement Award and was her class treasurer sophomore year.
Elise is also involved in many activities outside of school. Every summer she is a volunteer at the Kids' Free Arts Camp at Shake Rag Alley. Elise has been participating in Shake Rag classes ever since they started ten years ago. She is also a jazz and hip hop dancer at Spring into Motion in Spring Green. Elise enjoys playing piano, spending time with friends and family, and playing with her two dogs, Eddie and Belle, in her spare time. When Elise and her family moved here from Kentucky, she had no idea she would love this town so much. Elise and her dad started going to the Red Rooster Café every weekend and Elise even told Helena and Patti, the owners, that she was going to work there when she was older. Elise has been a waitress at Red Rooster for almost two years now.
Elise has had many teachers inspire her throughout her high school years. Her Spanish teacher, Dianna Rogers, and her chemistry teacher, Matt Austin have really influenced her greatly and have made her push herself to become the student they know she is. She would like to mention that Lifka Bennett, her fifth grade teacher, has always made her feel special and will always be a huge part of her life and her favorite teacher.
After high school, Elise dreams of doing great things. She has yet to decide where she would like to go to college, but she plans on majoring in psychology or chemistry and minoring in Spanish or criminal justice. Elise has been accepted to Carthage College, University of Northern Iowa, and Hamline University. She is waiting to hear from University of Minnesota and UW-La Crosse.
Elise and Hannah have been best friends since elementary school. Hannah is a beautiful, talented, smart young woman and can handle anything that gets put in front of her. Hannah has accomplished so many goals already in her life and she will continue to pursue her dreams. Elise would like to thank the Kiwanis Club for choosing Hannah and her to be January's Students of the Month and congratulate Hannah also.
"Hannah Owens and Elise Powers are both polite, responsible, sincere, very motivated, bright girls who have the drive to achieve success in their future endeavors. It was a pleasure to have them as students in my class," said Deb Molle.
"Hannah and Elise have each been a tremendous asset to the MPHS band program," said Matt Nevers. "Elise is an integral part to our trumpet section and her bubbly personality just brightens up the band room whenever she is in it. Elise also has the type of positive attitude which influences the entire group. Hannah has been involved in many honor bands and has participated at state solo and ensemble on several occasions with her flute solos. Her musical leadership spreads to those around her. She holds the members of the flute section to high expectations, as she holds the same for herself."
"I truly feel it has been a privilege to teach Miss Hannah Owens," said Kristin Staver. "I am a typical English nerd that gets excited about American literature, and Hannah always reciprocated my excitement. I have had the honor of not only working with Hannah in the classroom, but on the athletic field and the stage. Hannah has been a four year member of the forensics team and has always been willing to try new things. I have loved watching her mature and excel, which she does in everything she tries, and am so excited to see what her future unfolds. Hannah is as beautiful inside as she is outside! I will miss her dearly in the years to come."
"Elise Powers is the true all-American girl," added Staver. "Her smile says it all! I have had the privilege of teaching Elise in the English classroom and coaching her in dance and cheer. She is always willing to go the extra mile in the classroom and on the sideline. The extra special part about Elise is her helping nature; she is kind to everyone and has the biggest heart. I love her thirst for knowledge; she is continually pushing herself to be better. She has always been a joy to work with in the English classroom because I have gotten to be part of a lot of 'light bulb' moments of hers–the thing teachers live for! She, like Hannah, is also as beautiful inside as she is outside. I will truly miss her next year but am so excited for her bright future!"
New to the Student of the Month program is a book donation to the school library by the Kiwanis in honor of the students.
"When I was in first grade, my mom started reading Harry Potter and the Sorcerer's Stone to me," said Owens. "We read it together; she would read some to me and then I would read some on my own. I continued to read the other six books after that, and that has made a huge difference in my life. I have grown up with Harry Potter, the books and the movies, and I can honestly say that has greatly influenced who I am today. The Harry Potter series has taught me many things. It has taught me that it is our choices, not our abilities, that show who we truly are. It has taught me that we all have both light and dark inside of us, and that what matters is the part we choose to act on; that's who we really are. It has taught me not to dwell on dreams and forget to live. And most importantly, Harry Potter has taught me about the power of love and friendship."
Elise chose the book Peaches by Jodi Lynn Anderson. "This was my favorite book when I was younger. There are actually three books in the series. The book is about three totally different girls that find one thing in common with each other and they make a true friendship. I highly recommend this book for middle schoolers and high schoolers because it is a fantastic book and really fun to read," said Powers.
Hannah and Elise are pictured with high school guidance counselor, Andy Palzkill.
(Photo and article by Joelle Doye)