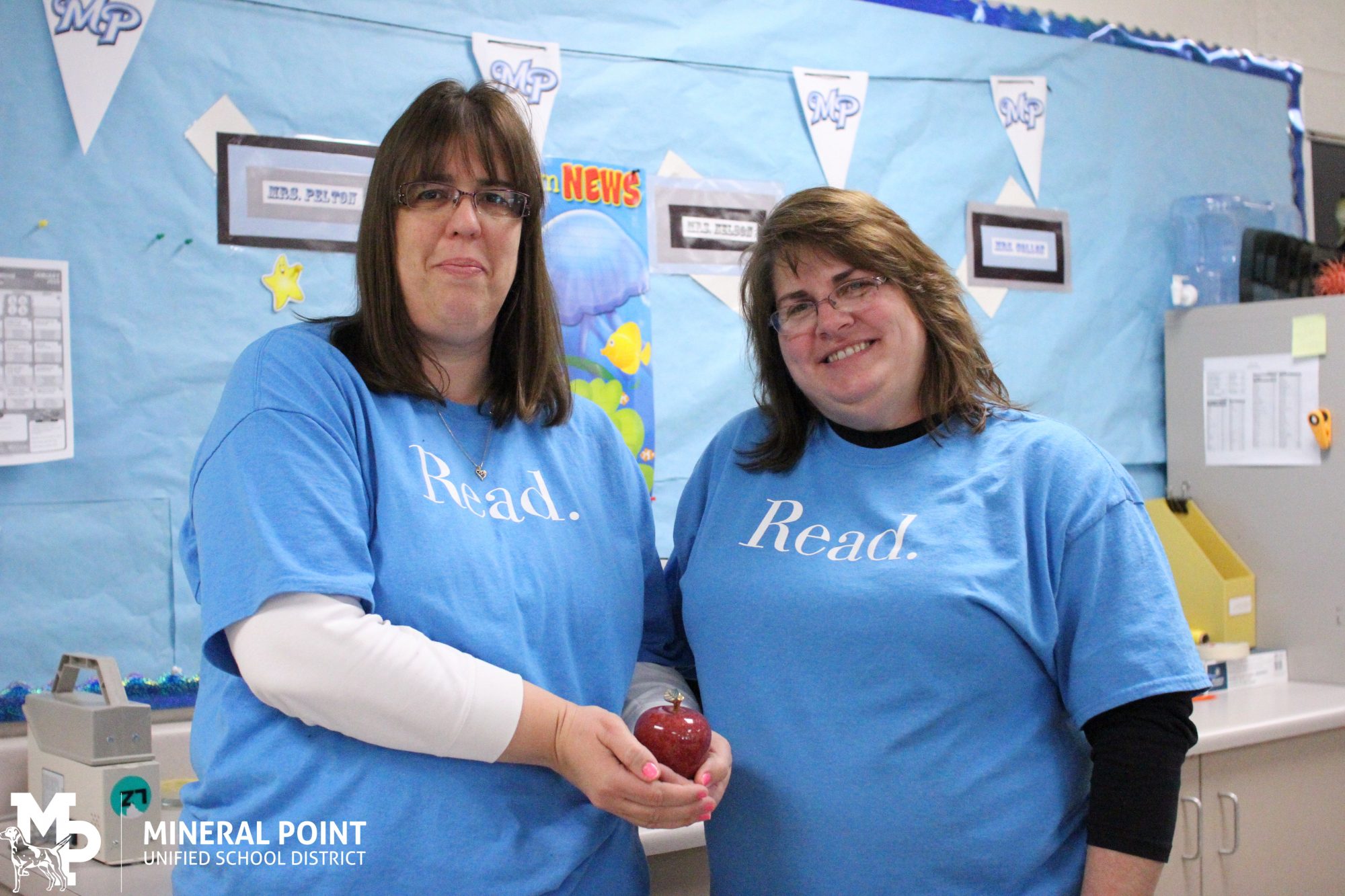 Sue Gollon and Heidi Nelson, middle school instructional assistants, were named the January Porcelain Apple Winners for Mineral Point Middle School. They were nominated by Sandy Weitzel, last month's winner.
The following was written about them by Janis Needham:
"Sue and Heidi have a multi-faceted position that changes by the hour. From the minute their day starts, they are ready and willing to go with whatever is asked of them. They both work with students that require dedicated assistance. Their love and commitment to these students is truly admirable. They do tasks that not everyone would do, with such grace and respect. Heidi rides the 'bumpy' bus every morning and Sue rides the 'bumpy' bus home every afternoon, which is no assistant's favorite task. Sue is also our in house 'Excel Expert.' She is tremendously helpful in the library and to Administrative Assistants. Heidi has been a dedicated Mineral Point employee for many years. She is also involved in Scouts and has recently been lifeguard certified. Both Sue and Heidi are greeted daily by many students in the middle school that know them as more than instructional/educational assistants, but also as trusted adults, fun, silly and outgoing individuals. As Mr. Rhode stated last month, Mineral Point Schools want their instructional assistants to be Hoyer Trained, Google Basic certified, CPR/AD certified, and trained in non-violent crisis intervention to de-escalate students with complex and sometimes dangerous behavior.
Heidi and Sue are extremely deserving of this award and much more! Their dedication to their job, and to the students they so deeply care for, is top notch and we as teachers couldn't do this job without them.
Please join me, and my special ed co-workers, in congratulating Heidi Nelson and Sue Gollon as this month's Porcelain Apple Award winners."
(Photo and article by Joelle Doye)