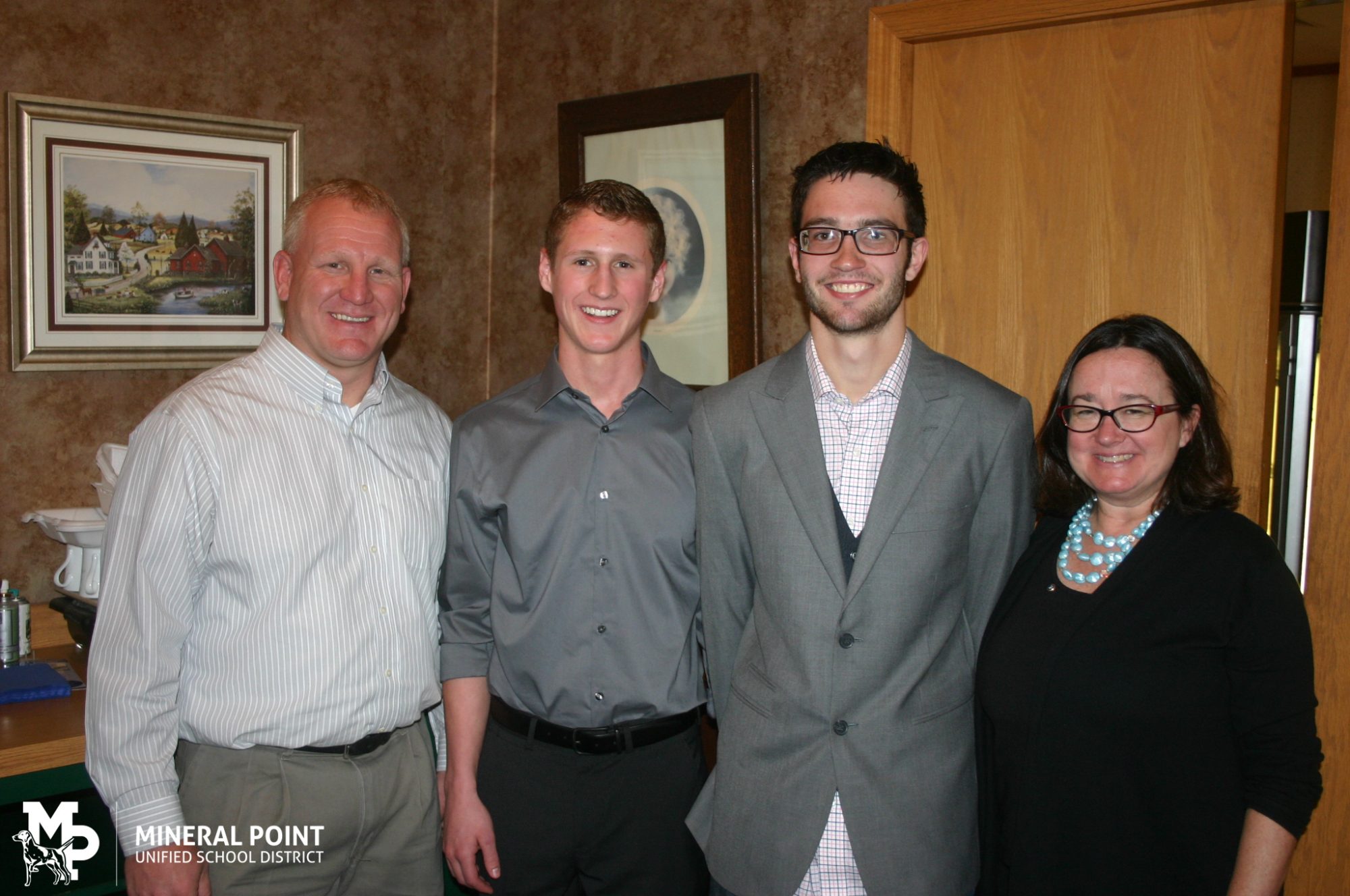 The Mineral Point Kiwanis Club honored its first set of 2014-15 Students of the Month at its meeting Tuesday, October 7.
The students, whom are members of the senior class, are selected for this honor through a voting process by staff at the school, and their biographies are written by themselves.
Josh Berg
My parents are Paul and Sarah Berg. I have two younger siblings, Megan and Matthew, who are in eighth grade. We have lived in Mineral Point my whole life, and I am proud to be a Pointer.
There are many activities that I have enjoyed throughout my high school career. Some of these include being in Skills USA, playing in the band, running cross country, and playing soccer. There are also activities out of school that I have participated in such as playing hockey for the Dodgeville Ice Wolves, attending Badger Boys State, and taking part in the Mineral Point Churches Youth Group. All of these clubs and activities have been very rewarding, and I have made great memories participating in all of them. Other hobbies of mine are playing the guitar and piano.
For the past four years I have worked for the amazing Jim and Cheryl Smeja doing various tasks and jobs, such as landscaping. I have also worked at the Jones Mansion in Mineral Point helping guests by carrying their luggage and art tools to their rooms. Lastly, I have mowed for Bob Oberhauser at Bec Controls.
After high school I plan to attend college, hopefully UW Madison right now, with the intention of getting a degree in biology.
All of the teachers and faculty members at Mineral Point have greatly impacted my life, but the teacher who has influenced me most is Mr. Tom Steger. He has always been a great role model and amazing teacher. He has taught me so much over the past few years and has sparked my interest in biology.
I would like to thank the Kiwanis Club for sponsoring Blake and me as Students of the Month and for providing lunch for us today.
Blake Chambers
I would first like to thank the Kiwanis Club and the Mineral Point High School for selecting me as the October Student of the Month.
I am the son of Chausti and Sam Weinbrenner and the late Paul Chambers. I have three younger sisters–Addyson (10th grade), Eloise (5th grade), and Suttyn (Pre-K). We all enjoy living in such a great town that has these kinds of opportunities for students. Not every small town has the opportunities and support that our Mineral Point community gives. Whether it's for sports or academics, our students will always have their town standing behind them.
When it comes to sports I have been involved in football the past four years and I participated in wrestling my freshman and sophomore years. Sports have taught me a lot about being a team player and that even the smallest player, like me, can make a difference to a team.
I am an avid music student and enjoy playing various percussion instruments, along with the bass and electric guitar. I participate in concert band, jazz band, pep band and have been a part of the high school musical orchestra for the past three years. Throughout my schooling in Mineral Point, music has been one of the greatest things I have been allowed to participate in and has granted me many chances to represent not only my town, but my state and country.
My band teacher, Mr. Matt Nevers, has been my greatest influence throughout middle and high school. I first had Mr. Nevers for my 5th grade percussion lessons, when I could barely play Mary Had a Little Lamb on the bell set and I have had him every year since. He has granted me many opportunities outside of school such as honors bands and nominating me to join the Wisconsin Ambassadors of Music, which I toured Europe with this past summer.
I also want to thank the Kiwanis Club again for helping to support this trip, along with all of the other clubs and businesses that helped me reach my goal.
After this year, I hope to attend either UW Madison or Notre Dame for pre-medical studies. After undergraduate school, I am hoping to enroll in medical school and become an anesthesiologist.
I would once again like to thank the Kiwanis Club for this honor and I hope that these kind of opportunities will always be available for Mineral Point students.
"Josh and Blake are students in Advanced Placement Calculus, the third class that I have had the pleasure of teaching them in," said Ben McWilliams. "They are both wonderful students that are involved in class discussions, are very helpful to other students, turn in magnificent work, and have a tremendous thirst for knowledge. These two young men are well-rounded individuals who are outstanding role models, not only for younger students, but also their classmates. Congratulations Josh and Blake!"
"Blake and Josh are both members of the high school band," said Matt Nevers. "Blake plays percussion and Josh plays trumpet. They are both tremendous leaders in the band. They take it upon themselves to make sure their sections are better."
New this year to the Student of the Month program is a book donation to the school library by the Kiwanis in honor of the students.
Josh chose "The Eye of the World" by Robert Jordan and Blake picked "Command and Control: Nuclear Weapons, the Damascus Accident and the Illusion of Safety" by Eric Schlosser.
"The Eye of the World" is a great book full of excitement and adventure," said Josh. "It is a perfect beginning to one of my favorite series."
"This is one of my favorite books because it shows that even though we have advanced so far in technology, we are still unable to completely control what we create," said Blake.
The students' names will be placed inside the books.
Blake and Josh are shown in the photo with Dr. Luke Francois, Mineral Point Superintendent and Kiwanis President, and Lisa Hay, Kiwanis Past President.
(Photo and article by Joelle Doye)