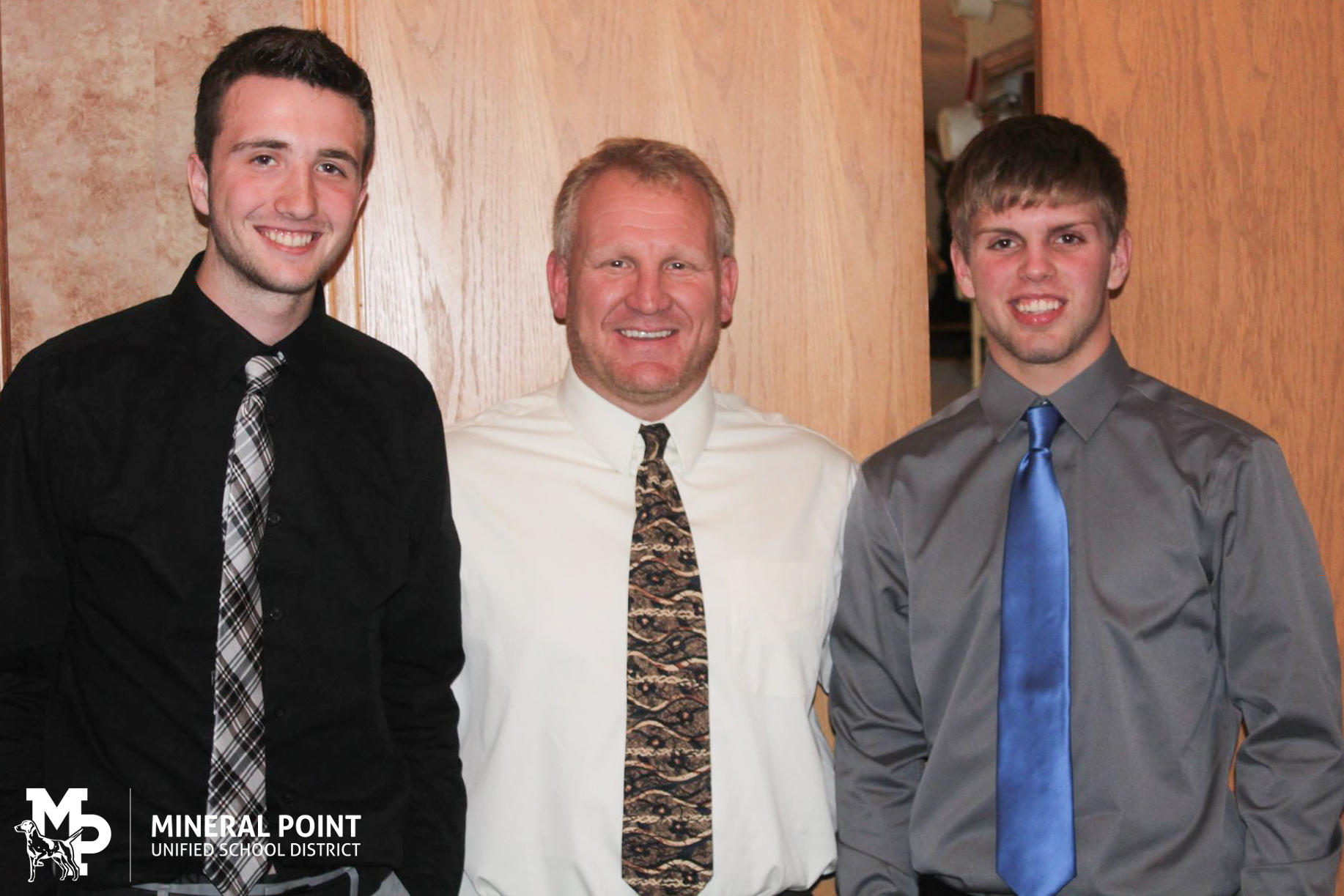 The Mineral Point Kiwanis Club honored its November Students of the Month at its meeting Tuesday, November 4 at the Pointer Café. The students, whom are members of the senior class, are selected for this honor through a voting process by staff at the school, and their biographies are written by themselves.
Alec Schmitz
Alec is the son of Bill and Sid Schmitz. He has two older sisters, Alexa and Rilee. Everyone in his family has grown up in and graduated from Mineral Point.
Alec has played basketball, baseball, and football throughout high school. He has been first team all-conference for football and second team all-conference for basketball.
Alec has participated in the clubs of Skills USA and the Future Business Leaders of America in high school. He has been in forensics for three years and won the highest award at the state level all three years with group members Joey Gorgen, Sy Staver, Matt Doney, and Turner Poad. He is a member of the National Honor Society.
His favorite activities include playing sports, and his weekends revolve around Badger and Packer games.
Outside of school, Alec likes to volunteer at the Hodan Center.
He plans on attending UW-Madison for college but is undecided on his major.
Alec's coaches have inspired him because they have taught him that hard work is important, but it's more important to work even harder when people aren't watching. They have pushed him to be a better athlete, student, and person.
He would also like to thank the Kiwanis club for the nomination of Student of the Month. Alec would like to congratulate Ross and wish him luck with all of his future endeavors.
Ross Siegenthaler
Ross is the son of Dean and Jolena Siegenthaler. He has a younger sister, Maddie, who is 15.
He has been a student-athlete at Mineral Point High School all four years. He is a member of both the football and wrestling teams. He placed fifth in the Division 3 138 pound weight class at the WIAA Individual State Wrestling Tournament last year. He is also an active member of the FFA and Skills USA clubs. When he is not involved in these activities, he is helping his dad on the farm. He also works at his dad's business, Sieg Ag Services. During the summer he stays busy by working on his show steers with his sister. He has maintained just under a 4.0 GPA all while being a part of these activities.
His wrestling coaches, Scott Schmitz, TJ Burke, and Tim Swenson have inspired him throughout high school. They push him in the wrestling room and the classroom to be the best he can be. His science teachers, Tom Steger and Matt Austin, have also inspired him and helped create his love for science.
After high school, Ross plans on furthering his education at the University of Northern Iowa or UW-Madison and majoring in biology with a pre-med emphasis.
Ross would like to thank the Kiwanis for this honor of being chosen as Student of the Month and would also like to congratulate Alec on receiving the honor of being Student of the Month.
"Both students are very friendly to other students and staff," said special education instructional assistant, Cinda Walker. "They are always polite and follow the rules. They lead by example and affect other students by their actions. Alec has been in Phy Ed. with the students I work with every year. He always includes these students and often includes them when picking teams.Alec has gone out of this way outside of school to include students and be a friend to them. Congratulations, Alec and Ross!"
New this year to the Student of the Month program is a book donation to the school library by the Kiwanis in honor of the students.
Alec chose "Dream Team" by Jack Mccallum and Ross picked "The Lion the Witch and the Wardrobe" by C.S. Lewis.
"Dream Team is a look back at the single most dominant basketball team of all time. It goes behind the scenes of the 1992 USA Olympic basketball team, when NBA players were first allowed to play," said Alec. "Players such as Michael Jordan, Larry Bird, and Charles Barkley awed fans and even opposing players. I am a very avid basketball fan, so this book has captured my interest since the first chapter."
"The Chronicles of Narnia is one of my all time favorite series of books," said Ross. "I picked The Lion the Witch and the Wardrobe by C.S. Lewis because it is my favorite book in the series by far. I loved every part about the book and have read it many times."
The students are shown with Dr. Luke Francois, Mineral Point Superintendent and Kiwanis President.
(Photo and article by Joelle Doye)