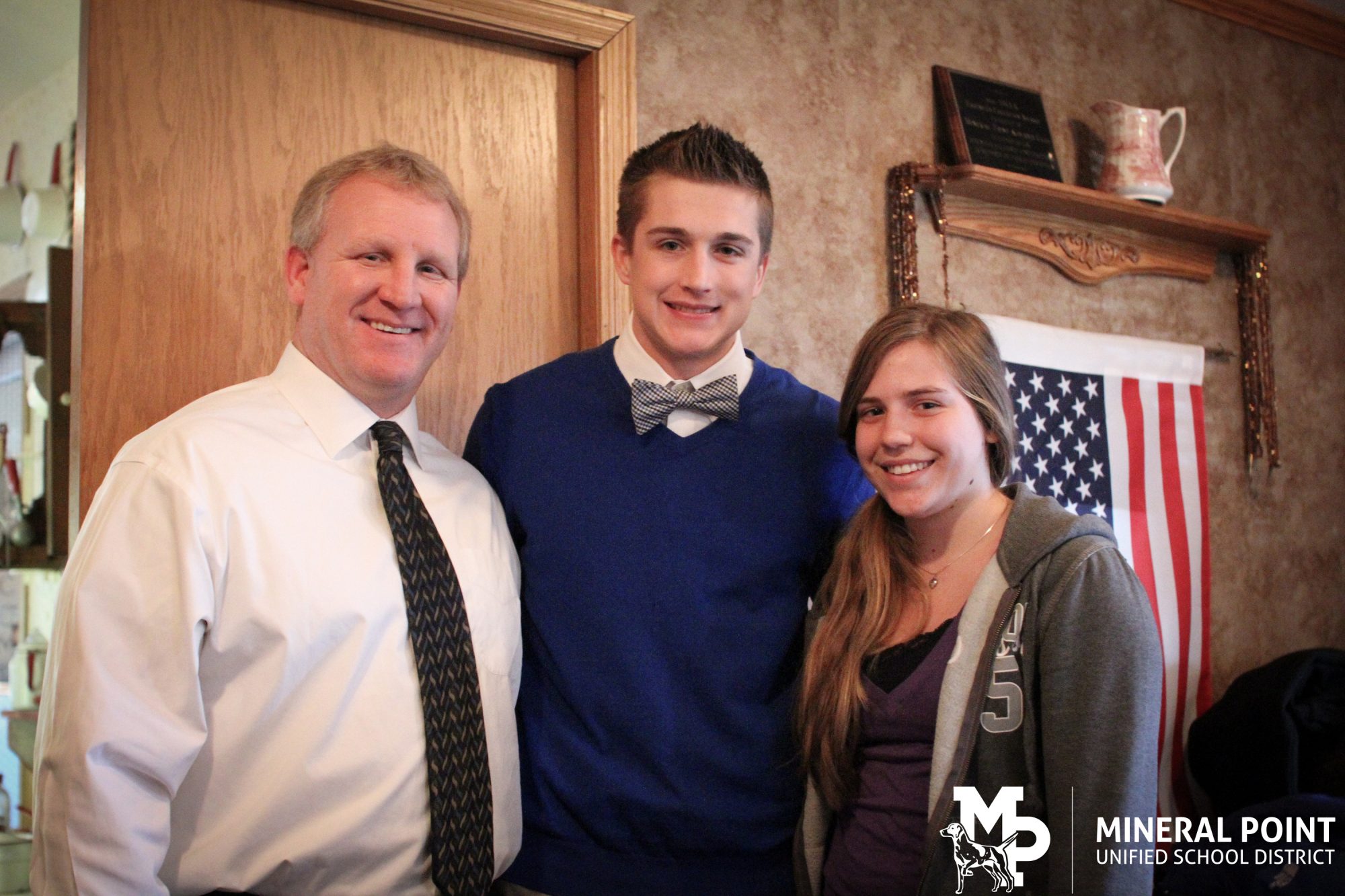 The Mineral Point Kiwanis Club honored its December Students of the Month at its meeting Tuesday, December 2 at the Pointer Café.
The students, whom are members of the senior class, are selected for this honor through a voting process by staff at the school, and their biographies are written by themselves.
Winndie Darrow
Winndie is the daughter of Steve and Antoinette Darrow. She has an older brother named Stormy who is currently attending Southwest Tech in Fennimore.
Winndie is involved in football cheerleading, gymnastics, band, choir, and Key Club. She loves science and math which will prepare her well for college. She currently works at Subway. She knits and sews in her free time and sells them to raise money for trips and college.
Winndie always has a plan. Her plan for high school starting freshman year was to be on high honors every quarter, be accepted into National Honor Society, graduate with honors, and attend UW-Stevens Point for college.
After achieving this plan, Winndie will be attending Stevens Point in the fall of 2015 on September 2nd, her birthday. She hopes to be a cheerleader and an active member in Circle K and Animal Behaviors Club. She plans to major in Wildlife Ecology and Accounting.
Winndie's neighbors Betty Walsh and Joan Bushnell have influenced her life so much. Whenever she goes to their house, they talk to her and give her "grandma's advice." Winndie is eternally grateful for these two ladies and could not imagine the person she would be without them.
Winndie would also like to thank the Kiwanis Club for selecting her to be student of the month for December. She is honored.
Sy Staver
Sy is the son of Tim and Kristin Staver. He has a younger sister, Sydney, who is a sophomore at MPHS. Sy is a very active senior and was very proud to be inducted into the National Honor Society as a junior. He has been the president of Future Business Leaders of America for the past two years and has been elected a class officer for the past four years. He has been a member of the forensics team for the past four years and is currently a team captain. His forensics group will be going for their fourth straight gold medal at the state level this year. He is also a member of the yearbook staff, World Cultures Club, and the Blue Crew. He has been mentoring elementary students as both a Spanish tutor and a Playground Buddy.
Sy has been on the varsity football, basketball, and baseball teams all four years of high school and serves as a captain for each. He was honored to be selected this past summer by the Wisconsin Basketball Coaches Association to represent Wisconsin on the Wisconsin Rising Senior Stars basketball team in Indianapolis. He has been first team all-conference for football, basketball, and baseball throughout the last four years. For football this year, he was selected for the Wisconsin Football Coaches Association all-region team, the Dubuque Telegraph Herald all-area team, the Queen B Radio all-area team, and the Dodgeville Chronicle all-area team. He was featured in the Wisconsin State Journal as the Prep Athlete of the Week. In baseball, Sy was named to the Wisconsin Baseball Coaches Association all-state academic team and has been a two time Golden Glove winner.
In his free time Sy enjoys spending time with his friends and family relaxing and watching sports. Sy has narrowed down his college selection to five choices. He plans to pursue either a business or nursing degree and to play basketball.
Sy has always enjoyed his science courses with Mr. Matt Austin and Mr. Tom Steger. They both have been a factor in his decision to possibly pursue a degree in the health field. He also owes a great deal to Mr. Dan Burreson for his support throughout basketball and helping him make future playing decisions. His role models are his parents who have always been there to support him in the classroom, in the gym, and on the fields.
"Sy Staver is one of the most respectful, pleasant, attentive, hardest working students that I have had the pleasure of teaching. He is a wonderful asset to Mineral Point," said Ben McWilliams, math teacher.
"Winndie and Sy have been active in athletics and activities during their high school careers," said athletic director Vickie Dahl. "Winndie has been a varsity football cheerleader for four years and was a captain of the squad this past season. Sy is a three sport athlete. He is a three year letter winner in football. Sy received many awards for his accomplishments in football and was an all-conference selection on offense, defense, and special teams. Many of us are looking forward to the upcoming basketball season where Sy and his teammates should have another successful run."
"I have had the pleasure of having Winndie in my personal finance and accounting classes," said business teacher Kipalee Bakken. "She demonstrates a strong work ethic and determination to put forth her best effort in all of her classes. Not only is Winndie attentive in class, but she is always willing to listen to her peers. Her kindness, courtesy and respect toward others make her the great person she is, a valued friend, classmate and student."
"Sy has been an active member of our Mineral Point Chapter of FBLA each of his four years in high school," added Bakken. "He has served the past two years as president, after previously holding the public relations officer position. His commitment, dedication and leadership in our FBLA organization have been instrumental in training and preparing a strong leadership team for the future. His enthusiasm in FBLA activities and encouragement of fellow members is motivating."
New this year to the Student of the Month program is a book donation to the school library by the Kiwanis in honor of the students.
Sy chose "Heaven is for Real" by Todd Burpo. "I loved this book! I thought it was both interesting and inspirational. It is a true story about hope and faith that can be read in a day or two," he said.
Winndie chose "The Seekers." She said, "The Seekers series has really touched me. Ever since I was little I knew when I grew up I wanted to work with animals. In middle school I read The Seekers series and it talks about these bears who journey to a specific place and the troubles they had. While I was reading them, I had this sense that I wanted to help them even though they weren't real. This series helped me realize what I wanted to do. I want to save wildlife and help them in any way I can. I am proud to have the second book of The Seekers series be added to our library."
The students' names will be placed inside the books.
Winndie and Sy are pictured with Dr. Luke Francois, superintendent, and president of Mineral Point Kiwanis.
(Photo and article by Joelle Doye)