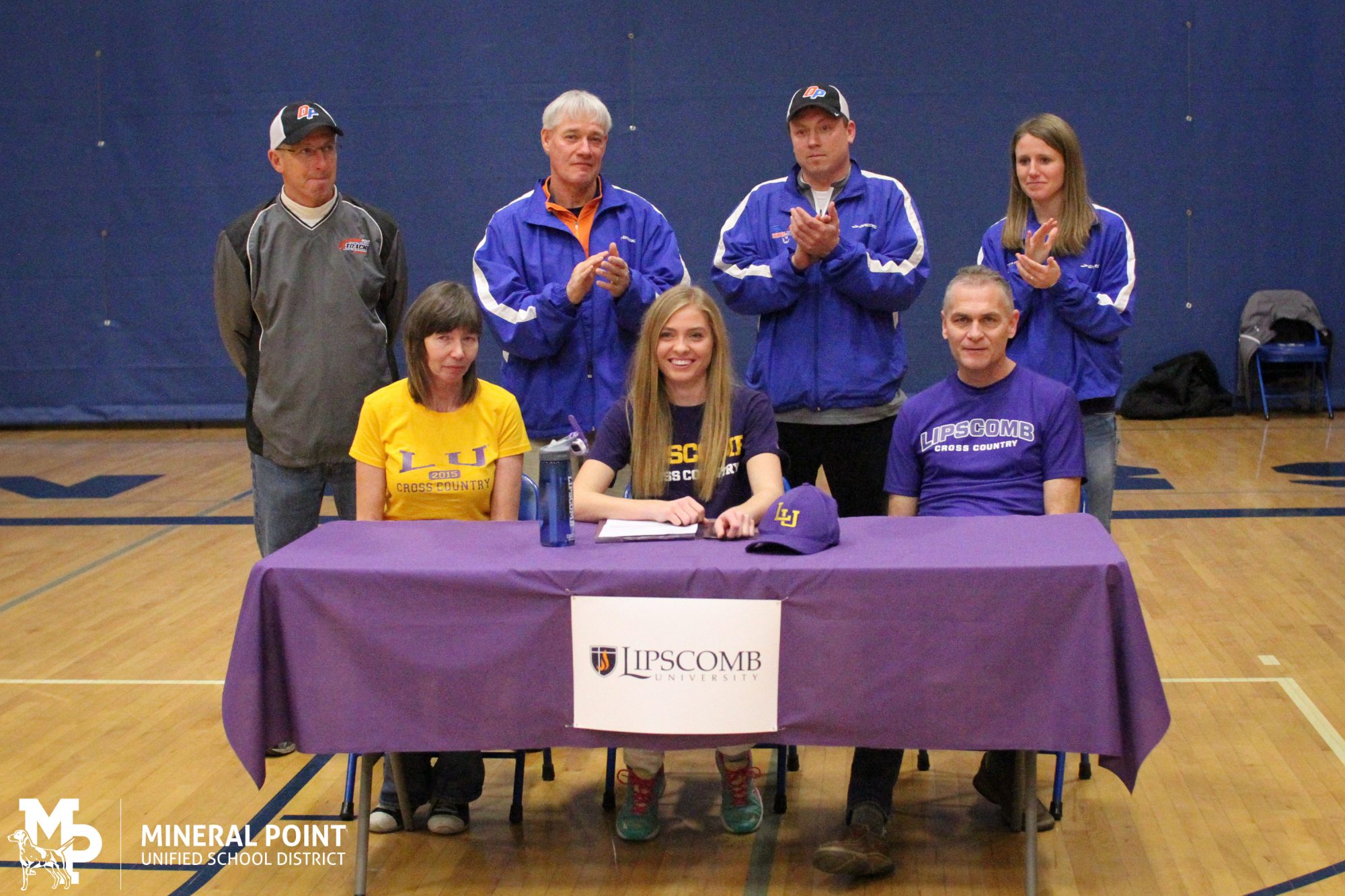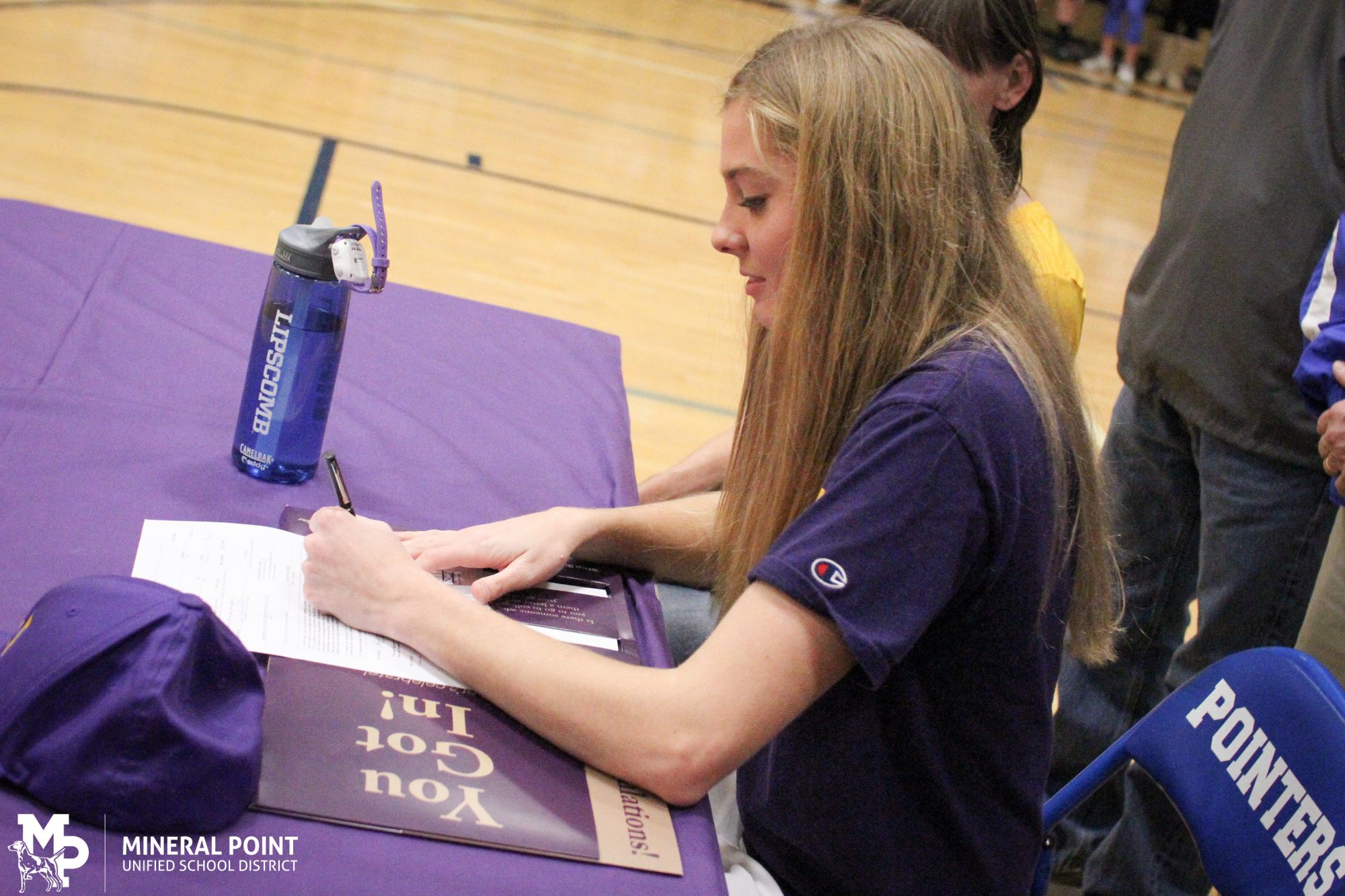 Some people are just born to do certain things.
One could think Bruce Springsteen was talking about Hannah Owens when he penned the words to "Born to Run," except for the fact Owens wasn't alive then.
But that is exactly what she was born to do.
The Mineral Point High School senior has been a member of the Dodgeville-Mineral Point cross country and track teams all four years of high school, making her mark as one of the best runners in school history.
To further solidify that fact, Owens recently signed her letter of intent to run at Division 1 Lipscomb University in Nashville, Tennessee. Those in attendance for the boys basketball game between Dodgeville and Mineral Point witnessed this event as she joined the ranks of a very select few from Mineral Point to ever participate in athletics at the Division 1 level.
Lipscomb is a member of the Atlantic Sun Conference. In cross country this past fall, the women's team claimed a school-best third place finish in the NCAA south regional and won the conference title.
Bill Taylor, director of cross country/track and field at Lipscomb had the following to say about Hannah, "Hannah came on two visits this fall. I think she wanted to make sure we were worth the official visit, and I was so happy when she decided we were, and more happy when she decided to commit to Lipscomb. Hannah is an amazing fit here and she is going to run very fast. I am excited to see how much she improves in her career at Lipscomb."
Lipscomb's other recruits for next year are from the states of Arizona, Washington, Michigan, Illinois, New York, Kansas, and California.
Present for her signing were her parents, Julie and Bruce, as well as coaches Denny McGraw, Joe Hanson, Matt McGraw, and Ann Alleman.
Hannah is a seven time state qualifier in cross country and track and field, running at the state meets in every season she has competed to date.
Her cross country honors include: four time varsity letter winner; four times named first team all-conference; three time conference champion; three times named second team all-state; three top ten finishes at the WIAA state meet (7th, 8th, 5th), school record holder in the 5K; named team rookie of the year; three time MVP on her team; and team captain; earned two straight team WIAA Division 2 state championships.
Her track and field honors include: three time varsity letter winner; three times named first team all-conference in the 3200m run; two times named first team all-conference in the 1600m run; two time conference champion in the 3200m run; conference champion in the 1600m run; finished 7th at state in the 1600m run; took 5th, 8th, and 3rd place at state in the 3200m run; named first team all-state in the 3200m run; named team rookie of the year and team MVP distance runner.
Owens discovered at a very young age she enjoyed running as she had access to the Comer Center at Lands' End, thanks to her mom's employment there. Her parents volunteered to start a middle school cross country program for Mineral Point, which really made her aware of her desire to run competitively.
"I had a goal starting in 8th grade and I'm so glad all the hard work and sacrifice has paid off," she said. "I worked hard, but I developed slowly as a runner. I have never had a serious injury, and I think that is partly because I progressed slowly."
Owens has nothing but the highest praise for her support system of parents and coaches.
"I would not be where I am without their encouragement and support," she says. "I can't say enough about my coaches. They know what they are doing. I've heard from athletes all over the state they are jealous of our program and coaches we have at Dodge-Point. They really are like second fathers to me."
Hannah felt some of the same family vibe that she has enjoyed so much at Dodge-Point when she visited Lipscomb.
"I received a letter from them, and I had never heard of Lipscomb, but thought I'd look into it. I found out they are a good team, and I fell in love with it on my visits," she said of the private Christian university.
Owens says her most memorable moments of her high school career are the two state team titles in cross country Dodge-Point won during her freshman and sophomore seasons.
The team made its 19th straight state appearance this fall and came home with a 6th place finish, but Owens still considers the 2014 season a successful one.
"We are a team, and we are there for each other through the good times and the bad. I have the most incredible teammates and I'd rather finish in 6th place with these girls than have run on the championship team for another school," she said.
Hannah has the track and field season in the spring to look forward to before heading to Nashville in the fall to be a distance runner for the Lipscomb Bison and major in English and Creative Writing.
(Photos and article by Joelle Doye)