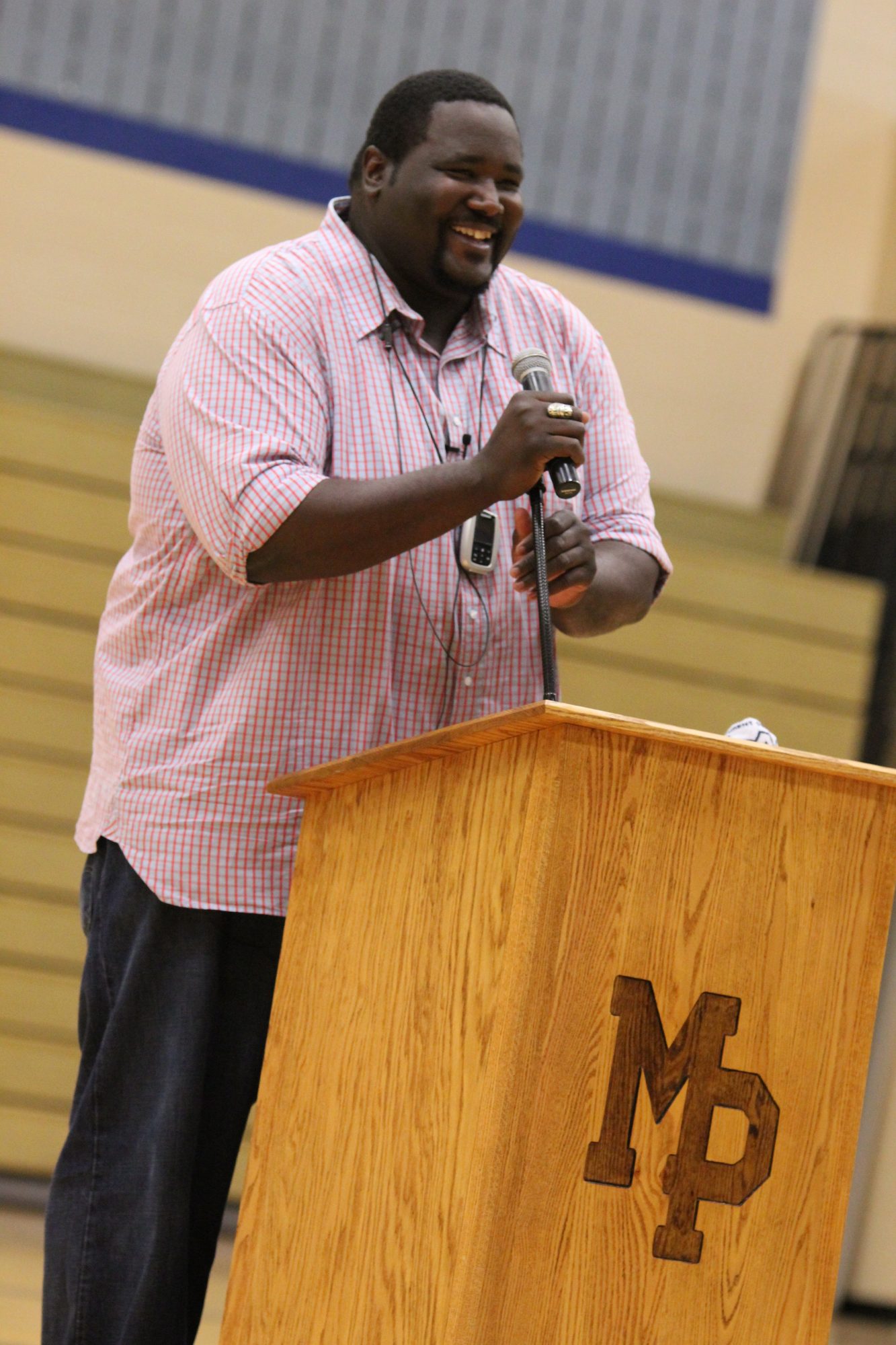 Mineral Point Middle/High School welcomed actor Quinton Aaron, most famous for his role in the movie The Blind Side, for an all-school assembly last Wednesday morning
Aaron's arrival was a surprise to most as his visit was kept under wraps until the last minute. Mineral Point Middle School principal, Vickie Dahl, introduced the guest and thanked MPHS alumni, Alex Brown-Carey, for arranging the visit. She has been working as a videographer on Aaron's latest movie set, Halfway, which is being filmed nearby in Montfort.
Aaron, age 30, didn't stop by to speak about his movie, however. His message to the student body was much deeper than that.
The Quinton Aaron Foundation was established to provide hope, encouragement, confidence and resources to children on the brink of suicide or battling the damaging effects on self-esteem and confidence caused by the bullying actions or words of others.
Aaron stated he established the foundation two years ago on his birthday, which also has a goal to help combat childhood obesity.
"I am the perfect example of being able to overcome obstacles to be what you want to be," said Aaron. "We all have trials and tribulations. It's important for people like me to share our experiences so we can tell others how to get through it. I'm a testament that it can happen."
A student asked Aaron where he went to college, and he replied that he didn't. He went straight into the workforce to help support his mom and siblings.
It's hard to believe when looking at the now 6'8" actor that wears a size 22 shoe that he was once bullied himself as a child growing up in Augusta, Georgia.
"My mom put me in self defense classes, and that's when the physical altercations stopped," he said.
Aaron has high praise for his mother, and calls The Blind Side his dream-come-true role because his mother got him the audition. Unfortunately, she passed away before he got the part.
He also credits his mother for helping him learn that bullies' words don't matter in the grand scheme of life.
"I know it's easy to say not to worry about what others say about you, but if you think about it, why should their words have relevance on your life? They're not going to stop you, so just keep saying 'So what?'" said Aaron, who told students by pretending not to care, you take away some of the bullies' power.
"You come to school to be selfish," he added. "This is your education, this is the time you learn the tools for your life to become what you want to become. Don't let anyone else take that away from you."
Aaron is also proud of a new cell phone app that will hopefully cut down on cyber bullying. It deletes offensive words and messages, or if the child desires, it can also send the bully's message to the email of a parent.
"We need help from everyone to combat this problem," he added. "If you see bullying, tell someone."
"There are no benefits to bullying. You only make someone feel bad," he concluded.
(Article and photos by Joelle Doye)