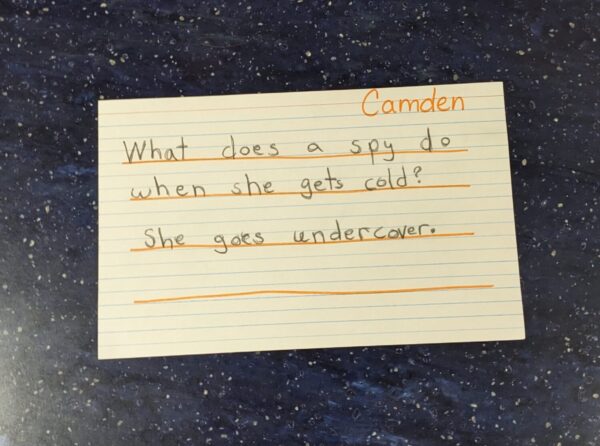 The Most Effective Teacher
To start the new year, we had 1st grade students come down to the office to read aloud a joke they prepared in class for morning announcements.
I often read aloud "dad jokes" during announcements. When the students see me at lunch, more times than not someone has a joke they came up and wants to share with me. Some are ready for prime time; others need a little work.
While I am not sure where they come up with their original ideas, I do believe they are motivated to tell jokes (besides being funny) because it has been modeled for them.
As a parent, it's uncanny how my behaviors are often manifested in my son and my daughter.
How much time I spend on my smartphone and when

Reading for enjoyment

My diet

My language and tone of voice
As the most immediate adults in our kids' lives, we have tremendous influence with our children. You are their most effective teacher. And we teach at least as much by what we do as what we say.
Attendance letters
Per district attendance policy, we send out letters when students reach seven days out, ten days out, and for unexcused absences.
We bring this up as letters have gone home again. If you did receive a letter, this does not necessarily mean your child is having attendance problems. We realize there has been a lot of illnesses this winter and many kids out each day.
If you do have concerns, please call the office. We are happy to share more about this process or answer any questions you may have.
Arrival at school
Three requests from the school regarding student arrival:
While the doors open at 7:30 A.M., school doesn't official start until 8:00 A.M. If your child(ren) is/are dropped off or walks to school, consider delaying their arrival a bit. It will help with supervision and congestion in the hallways.
Related, if they can arrive with their winter gear already on (snowpants, boots, etc.) they can go right outside if they are not taking breakfast.
If possible, please have your child walk into the building on their own. We want to support their independence in addition to reducing congestion.
Family requests for lunch at school
The school continues to receive requests from family members to have lunch with their child at school. With our continued high rate of absenteeism due to illness, we are not accepting these requests at this time. Thank you for helping us stop the spread of various germs.
The benefits of reading aloud to young children
The research on reading aloud is highly correlated with positive outcomes for kids.
In his work, journalist Jim Trelease discovered that children are exposed to more words and more complex words when listening to a book read aloud to them vs. only engaging in conversation.
In her research, Dr. Maryanne Wolf discovered that reading aloud to children "lights up" more parts of the brain compared to simply hearing language or watching a movie. Different cognitive systems connect via neurons to process language and construct meaning from text. Reading aloud helps neurons "wire together" when they fire together, which builds their capacity for complex thinking.
Dr. Rekha S. Rajan found that reading aloud helps babies understand speech and the language (or languages) spoken by your family. After hearing hundreds of books, by the time children go to school they can tell the difference between spoken language and the language of books because listening comprehension precedes reading comprehension.
Not sure where to start? Our school has a wonderful library; please reach out to Ms. Uppena, our school library media specialist for recommendations. Also check out our equally excellent public library in Mineral Point.
Take care,
MATT RENWICK
PRINCIPAL, ELEMENTARY SCHOOL
This is Matt's 23rd year serving in public education. He started as a 5th and 6th grade teacher as well as an assistant principal, athletic director, and building principal all in Wisconsin Rapids. As an elementary principal with the Mineral Point Unified School District, he enjoys working with students, staff, and families in a collective pursuit of continuous learning. In his spare time, he reads, writes, gardens, and travels to connect with family and friends.