Hello MPES families,
As I passed by a staff member in the hallway this morning, she noted, "It's sweatshirt weather, but I don't mind."
It was a small reminder of the one constant in life: change.
The seasons, especially in Wisconsin with their slow yet visible transitions from one to the next, can be viewed in a couple of ways:
Worry over the colder temperatures, the snow flying, prompting a wish for a vacation in warmer climates.
Appreciation for the autumn colors, upcoming family gatherings, surfacing feelings of beauty and belonging.
Both can be true, based on our perspectives.
Which one will you choose?
Homecoming Week
Homecoming Parade Expectations & Sign Up
After meeting with other parents, we have made a few changes to the homecoming parade process:
Students arriving no earlier than 6 P.M. at Water Tower Park.
Parents/guardians staying with their child(ren) at the park until 6:15 P.M.
Students/families congregate by grade level, using the color codes (see map, list below).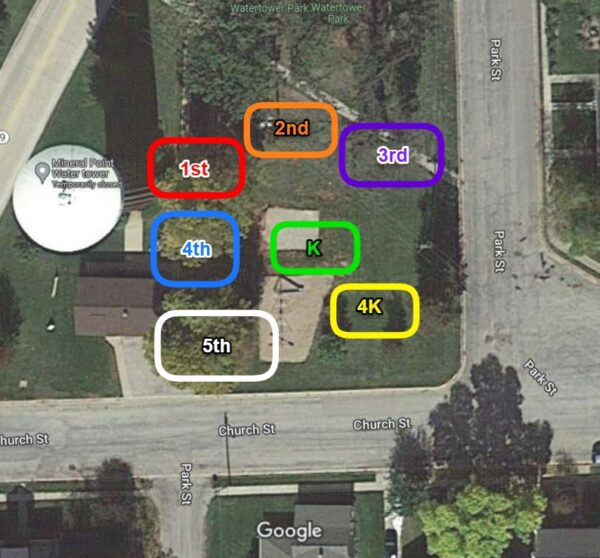 Here is how each grade level will be grouped:
4K: Yellow

Kindergarten: Green

1st Grade: Red

2nd Grade: Orange

3rd Grade: Purple

4th Grade: Blue

5th Grade: White

Staff: Black
Starting with 4K, this is also the order they will proceed down High St for the parade.
Below is the document with all of the expectations for a safe and fun homecoming parade. Please also sign up as a volunteer to help supervise in grades 1-5 in the second link.
First Family Educational Partnership Meeting
On Monday, the Family Educational Partnership group (formally P.E.P.) gathered for our first meeting of the year.
We discussed:
Potentially bring back after school programming; currently looking for interested supervisors
Exploring our district's visitor policy and process for parents/families requesting to visit the school
Homecoming parade process
The group is open to all MPES parents, guardians, and committed community members. Let Matt know at 608-987-0711 if interested in learning more about how to support our students, staff, and school.
MATT RENWICK
PRINCIPAL, ELEMENTARY SCHOOL
This is my 23rd year serving in public education. I started as a 5th and 6th grade teacher as well as an assistant principal, athletic director, and building principal all in Wisconsin Rapids. As an elementary principal with the Mineral Point Unified School District, I enjoy working with students, staff, and families in a collective pursuit of continuous learning. In my spare time, I enjoy reading, writing, gardening, and connecting with family and friends.