Hello Mineral Point Elementary School families,
Today is our first day of summer school.
It's nice to see the kids and staff back in the school. Speaking with one staff member this morning, she commented on how quickly the summer goes. "Once you hit the 4th of July, time just flies."
I agreed, and responded that she must be having fun.
That's the thing about time; it is relative! A long line in the sun waiting to go on an amusement ride can feel like forever. The ride itself is too short.
Thinking about the learning experiences we design in our school:
How do students feel about how our time is structured here?
How do students perceive the tasks that are offered within our limited time together?
What is the impact of their engagement (or lack thereof) on their academic growth and success?
These are questions I'll think about as we continue to prepare for the upcoming school year.
-MR
Library Access in July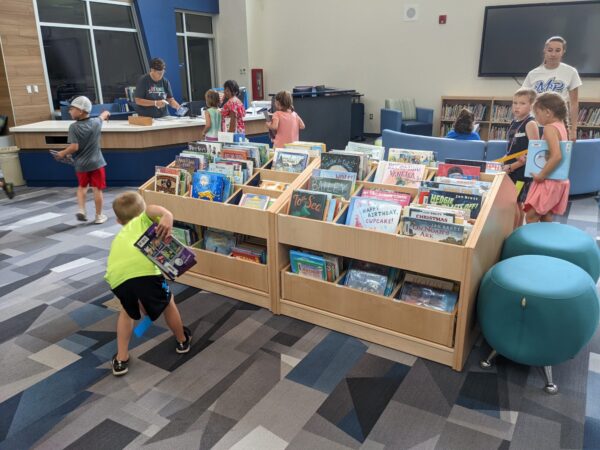 If you are interested in checking out books from the school library, families are welcome to stop by.
Hours are 8-11 A.M. during summer school days (July 5-8, 11-14, 18-21). Students must be enrolled in Mineral Point Elementary School to check out books. Books can be returned during regular office hours this summer (Monday-Thursday, 8-4).
If you do plan on stopping in, please give us a call at 608-987-0710 ahead of time so we know who's coming.
After School Program Interest Survey
Six years ago, we had an after school child care program.
Unfortunately, enrollment was too low and we ended the program. There has been a renewed interest in this offering, in which students can stay after school for a period of time if parents/guardians have to work past 3:30 P.M. and do not have supervision. Please fill out the survey linked below to help us determine if this is an offering we should consider bringing back.
Family Interest Survey – After School Program
E.L.A. Curriculum Selection
After much discussion, research, and review, teacher leaders and I selected a new literacy curriculum program.
The program is called Benchmark Advance. It was selected from several resources that we examined closely, including traveling to other schools that adopted some of the programs and observed them used in classrooms. The school board approved this acquisition in June. You can preview the resource here.
We will also have physical materials available to review at student registration on August 4th and 8th.
MATT RENWICK
PRINCIPAL, ELEMENTARY SCHOOL
Matt has served for over 20 years in public education. He started as a 5th and 6th grade teacher in a country school outside of Wisconsin Rapids, WI. After seven years of teaching, Matt served as an assistant principal, athletic director, and building principal all in Wisconsin Rapids. As an elementary principal with the Mineral Point Unified School District, he enjoys working with students, staff, and families in a collective pursuit of continuous learning