Hello elementary school families,
Today I was reminded that there are nineteen days left of school.
Time has played out differently at different times these past couple of school years. Time felt slower when stress was high. Now that we are in full swing of the last quarter of this school year, days zip by.
Regardless, the faculty and staff strive to make every day memorable for kids.
Next are a few updates.
Spring Events
Here is what is coming up these last four weeks of school:
May 11, 12:30: Kindergarten and 3rd Grade Car Show at the elementary school
May 17, 2:00 (private) &  7:00 (public): 5th Grade Musical at Mineral Point Opera House
May 19, 3:30 – 7:00: K-5 Art Show in the elementary gymnasium
May 25, 4:00 – 6:00: Reading Night at the elementary school
June 3, 11:30: 5th Grade Graduation in the elementary gymnasium
Summer School
Today is the last day to sign up for summer school (July 5-21); register below.
Family Group
Our group of parents and guardians continue to meet about once a month.
The goal of this group is to support the learning experience for our students and to facilitate communication between home and school. You can read through our mission/vision, running agenda and notes here. Our next meeting is on Monday, May 16 at 3:30 P.M. in the elementary library.
A recent activity by this group is providing food and recognition for Staff Appreciation Week – thank you!
Literacy Curriculum Review
With federal dollars available due to the pandemic, schools have been able to pursue much-needed updates to their instructional resources.
In our school, the teachers and I have been previewing different literacy curriculum programs. We have visited several schools to observe the texts and tasks they use. This process, along with a school data analysis conducted previously this school year, have been helpful in hopefully finding a resource that best meets the needs of our students.
In addition, we also use our shared beliefs (pictured below) to guide our assessment of these resources.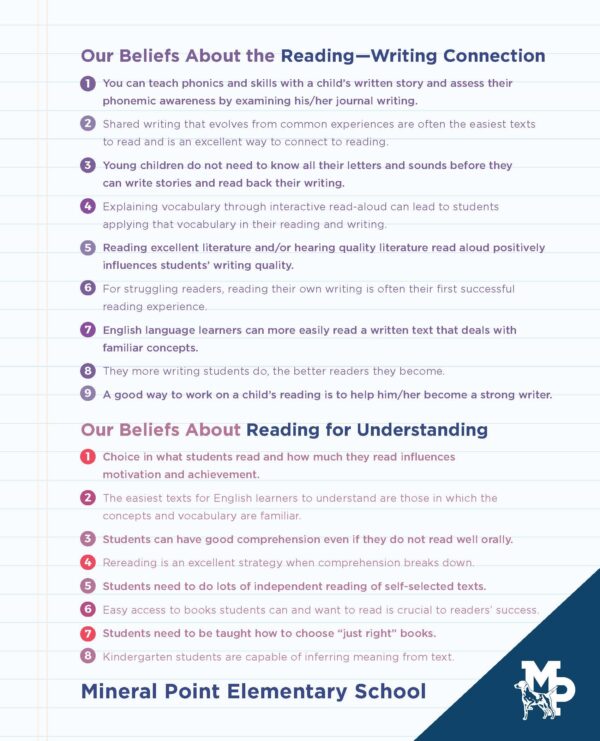 Take care,
Matt Renwick, Principal
Mineral Point Elementary School