Hello MPES families,
For educators, November and December is almost one month. With the holidays along with related events, it feels like it goes by quickly. Hopefully we all get a chance to catch our collective breaths over the winter break.
Next are a few updates from the building.
(As a friendly reminder, no parking or drop offs on the school side of Cothern St. This is now only for emergency vehicles.)
Digital Learning Continues in the Classroom
While we are happy to be in-person, we continue to take advantage of digital learning options when appropriate.
For example, students recently connected with children's author Stef Wade over Zoom. She shared about her writing process and responded to kids' ideas for their own stories.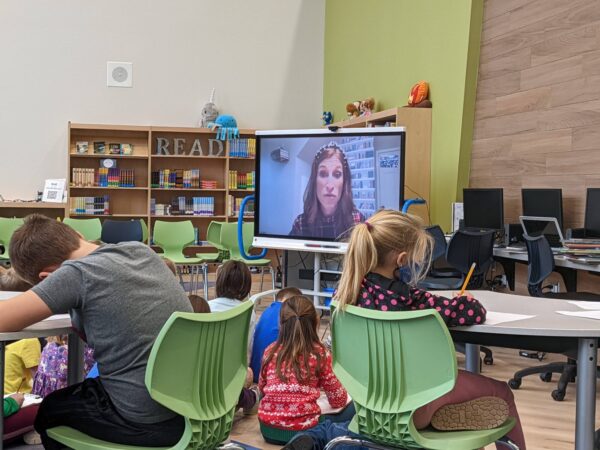 These technologies are here to stay. We will continue to explore ways of leveraging online and digital tools as we prepare our students for a bright future in a big world.
Data Retreat
Three teacher leaders and I worked with a consultant at CESA 3 to more closely examine our student assessment results. Our goal was to better understand where we are succeeding and why, as well as where we might want to focus our attention as an area for growth.
One finding was we are likely successful in our math results because of our consistent, high-quality curriculum. Another finding is while we do well in reading, our results are not as strong. Therefore, we are discussing ways to provide more consistent and relevant literacy experiences for all students. I want to stress that we continue to be successful in many areas as a school. This is simply our next step in our journey to excellence.
Family Involvement
Another area where we are looking to improve is better family involvement. The teachers do a nice job of communicating with families, and our library staff is offering engaging opportunities around children's literature and book clubs.
However, our former parent group, Parent Educational Partnership (PEP) has not been as active since I have been here. If you are interested in helping restart this community, please reach out to me (608-987-0711 or matt.renwick@mp.k12.wi.us). We are looking for family members with an interest in supporting the school and offering feedback on different topics. Individuals who are able to take a building-wide perspective and can consider multiple perspectives on an issue are preferred.
Take care,
MATT RENWICK
PRINCIPAL, ELEMENTARY SCHOOL
Matt has served for over 20 years in public education. He started as a 5th and 6th grade teacher in a country school outside of Wisconsin Rapids, WI. After seven years of teaching, Matt served as an assistant principal, athletic director, and building principal all in Wisconsin Rapids. As an elementary principal with the Mineral Point Unified School District, he enjoys working with students, staff, and families in a collective pursuit of continuous learning.