Hello MPES families! The school year has started well. We certainly have multiple updates yet to make with the building project, but we are overall pleased with the results. I hope you can join us for Open House on Wednesday, October 6 from 5-7 P.M. Also a constant in our lives is our response to the pandemic, including safety measures we are employing.
Building Project
The classrooms, common areas, and specialized spaces resemble little of what the school used to look like. Flooring consists of carpeting and modern tile. Our new air ventilation system – including AC! – is much appreciated on these warm first days of the school year. Kids rave about the new gym and library media center. And the cafeteria's windows offer a view of the outdoors during lunch time.
There are several items we still have to address (and it is good to remember that this project has a deadline of the end of October). For example, we are replacing several of the water fountains with new water bottle filling systems. Some materials are delayed due to the pandemic. HSR Design and Kraemer Brothers have both been good to work with as we look to finish up this project.
Open House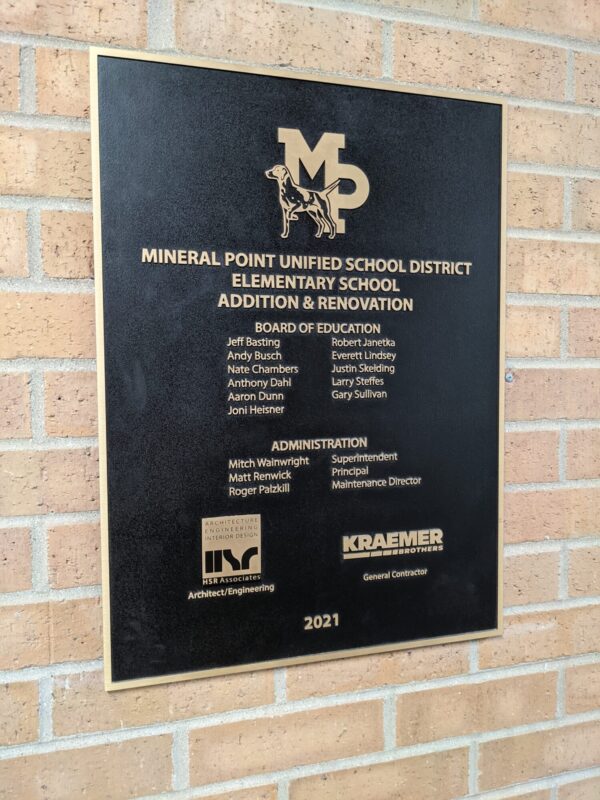 As shared, we are excited to have families and community members check out the new school on October 6. This will be an informal event, with visitors encouraged to explore the building and ask questions of staff. People can park in the lower lot or along a side street close to the school. Please do not park on Cothern St in front of the school, as this is now reserved only for emergency vehicles.
Our fall student conferences are scheduled for November 17. If you do have questions regarding your child's progress before then, please reach out to their teacher to set up a time to talk.
Pandemic Response
We continue to employ the safety and hygiene measures that we implemented during the 2020-2021 school year. This includes:
Frequent hand washing
Placing students in small groups during lunch
Reporting symptoms to the office or the school nurse
Sanitization of surfaces
Spacing out in classes
Wearing face masks
The kids seem to be managing this all very well. I look forward to a time when all of these precautions become a thing of the past, yet I am grateful we have them in place so we can continue to teach and learn in person this year. (Note: Established policies are in effect for typical attendance matters. Please review our student handbook, page 18 for more information, or reach out to me.)
Take care,
MATT RENWICK
PRINCIPAL, ELEMENTARY SCHOOL
Matt has served for over 20 years in public education. He started as a 5th and 6th grade teacher in a country school outside of Wisconsin Rapids, WI. After seven years of teaching, Matt served as an assistant principal, athletic director, and building principal all in Wisconsin Rapids. As an elementary principal with the Mineral Point Unified School District, he enjoys working with students, staff, and families in a collective pursuit of continuous learning.