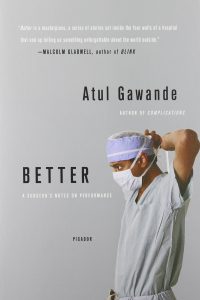 If you are looking for that next book to read, especially over the upcoming holiday break, I recommend Better: A Surgeon's Notes on Performance. The author, Dr. Atul Gawande, describes different examples in which individuals and organizations experience higher levels of success in comparison to others. How certain doctors and groups realized this uncommon achievement was a focus of Gawande's writing.
What was found out was surprising for the author and the reader. Success was not based on any innate talent or circumstance. In fact, some succeeded in spite of their circumstances. What these individuals and groups had in common was their constant focus on becoming better (hence the title of the book). They didn't settle for a certain metric or goal to be met. These individuals and organizations were always striving to find a more effective approach to their work in medicine and other professions.
This book recommendation is not a coincidence. Mineral Point School District recently received a "Highly Exceeding Expectations" rating from the Wisconsin Department of Public Instruction. This is a great honor. Everyone should be proud. The hard work of the staff and dedication of the community makes a difference. It is nice to see that realized and made public.
Still, I offer a small sense of caution. One reason is because it is easy to slip back to "how we used to do things" once a school or district achieves success. It is tempting to relax a little. I know because I have been there. Without a larger sustainable purpose, people tend to make decisions in their own interests instead of in the interests of the clients (in our case, students).
Another reason for caution is because success is fleeting. Look at any other organization, such as a business or a professional sports team, to know this to be true. What you would find in an example where success is achieved long term is they rarely rest on their laurels. They always seek areas for improvement.
While we should take some time to celebrate, our work in schools is never done. Maybe a question to ask ourselves is: So what has led up to our success? I've been asked this by administrative colleagues in the area. I am new here, but I have been around long enough to make a reasonable assessment that the work we are doing within our professional learning communities has made the difference. Analyzing student assessment data and making instructional decisions as teams helps us work smarter and be more responsive to kids' learning needs. It happens on Wednesday afternoons, yes, and these conversations spill over into the rest of the school day. The focus is on results.
The education profession is not easy work by any measure. How we operate today is different than in the past, through our continuous focus on improving instruction. How will our teaching and learning look in the future? If we sustain our focus on always improving, I think it is safe to say that we will be even better.
MATT RENWICK
PRINCIPAL, ELEMENTARY SCHOOL
This is Matt's seventeenth year in public education. He started as a 5th and 6th grade teacher in a country school outside of Wisconsin Rapids, WI. After seven years of teaching, Matt served as an assistant principal, athletic director, and building principal all in Wisconsin Rapids. Now as an elementary principal with the Mineral Point Unified School District, he continues to enjoy working with students, staff, and families in their collective pursuit of lifelong learning.